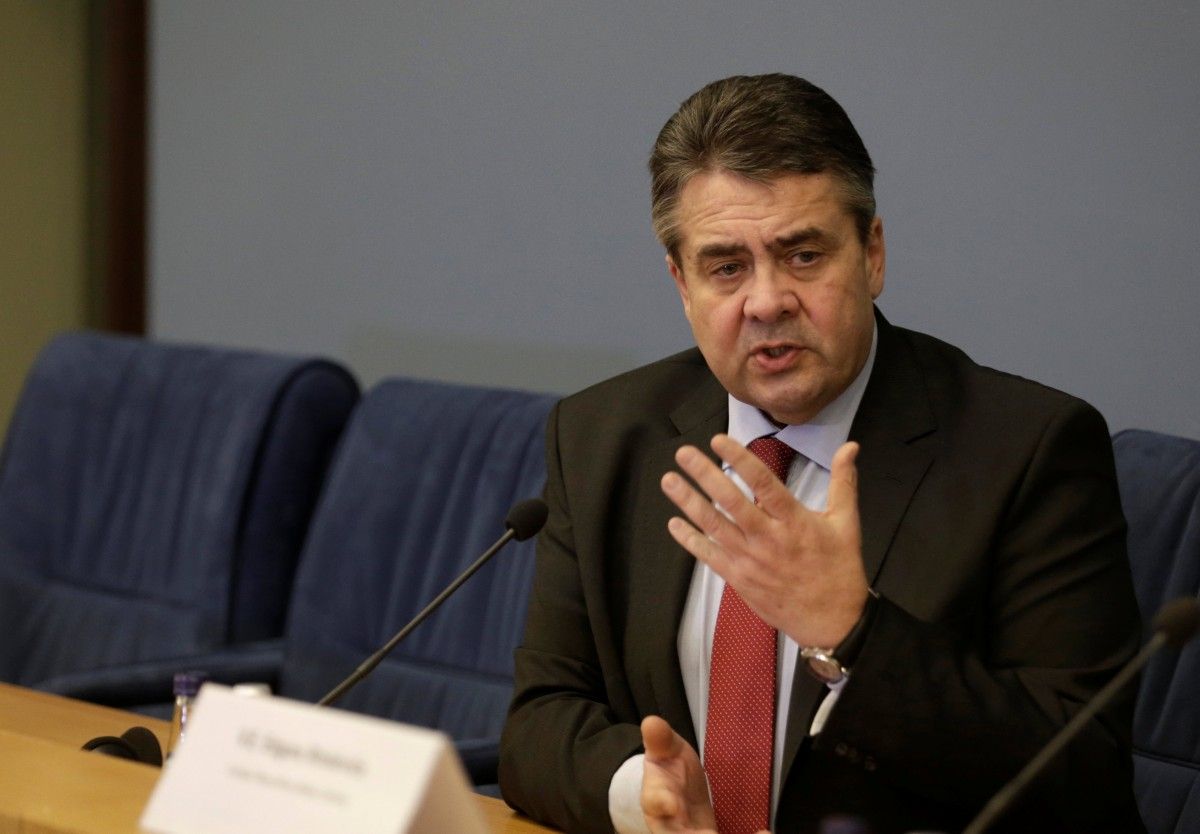 REUTERS
"Six months ago, I proposed to Russian President Putin to send a UN peacekeeping mission [to Donbas] if necessary. He had always rejected the idea," Gabriel said.
"Now he agreed with this proposal. Of course, we do not agree on all aspects of what the UN blue helmets mission should be like. But Russia has now taken a big step towards us. We should seize the opportunity and say: Let us negotiate how this UN mission should look. And if the truce comes, we should start to gradually reduce sanctions against Russia and help Ukraine rebuild Donbas. We need a new start in the relaxation policy with Russia. Now the Russians have opened the door, and we cannot slam it shut again, but try to open it more instead," said Sigmar Gabriel, according to the report.
At the same time, the German foreign minister believes that lifting Russia sanctions after the Minsk agreements are fully implemented would be unrealistic.
Read alsoPutin is setting an elephant trap for Merkel - The Times"Sanctions were important because we could not just watch Russia violently shift borders. At the same time, it would be unrealistic to believe that the Minsk peace agreements must be implemented entirely before the sanctions are lifted. They have been built up step by step and should be lifted step by step. And a first major step in reducing sanctions should be a real ceasefire. So that the Russians can see it is worth it," Germany's top diplomat said.
As UNIAN reported earlier, on August 22, Ukrainian President Petro Poroshenko declared his intention to present the idea of deploying a peacekeeping mission in Donbas at the 72nd session of the UN General Assembly, which launched its work in New York September 12.
Read alsoRussia says U.S., Ukraine reject its UN proposal for DonbasRussian President Vladimir Putin said on September 5 he considered the deployment of UN peacekeepers in Donbas "quite appropriate," but only along the line of contact and with the aim of protecting the OSCE mission. At the same time, he stressed the issue could not be resolved without direct contact with representatives of pro-Russian militants in Donbas. Following that, Russia sent a draft resolution to the UN leadership regarding the deployment of peacekeepers in Donbas.
In turn, Petro Poroshenko said on September 7 that the UN peacekeepers should be deployed throughout the temporarily occupied territory, including an uncontrolled section of the border with the Russian Federation.
Read alsoWhat Russian "peacekeepers" wantThe Ukrainian delegation to the UN has also submitted for consideration by partners in the UN Security Council the draft resolution on introducing a peacekeeping mission into Donbas.
On September 12, Russia drafted its own version of the resolution calling for the creation of an armed mission in Donbas for the term of 6 months.