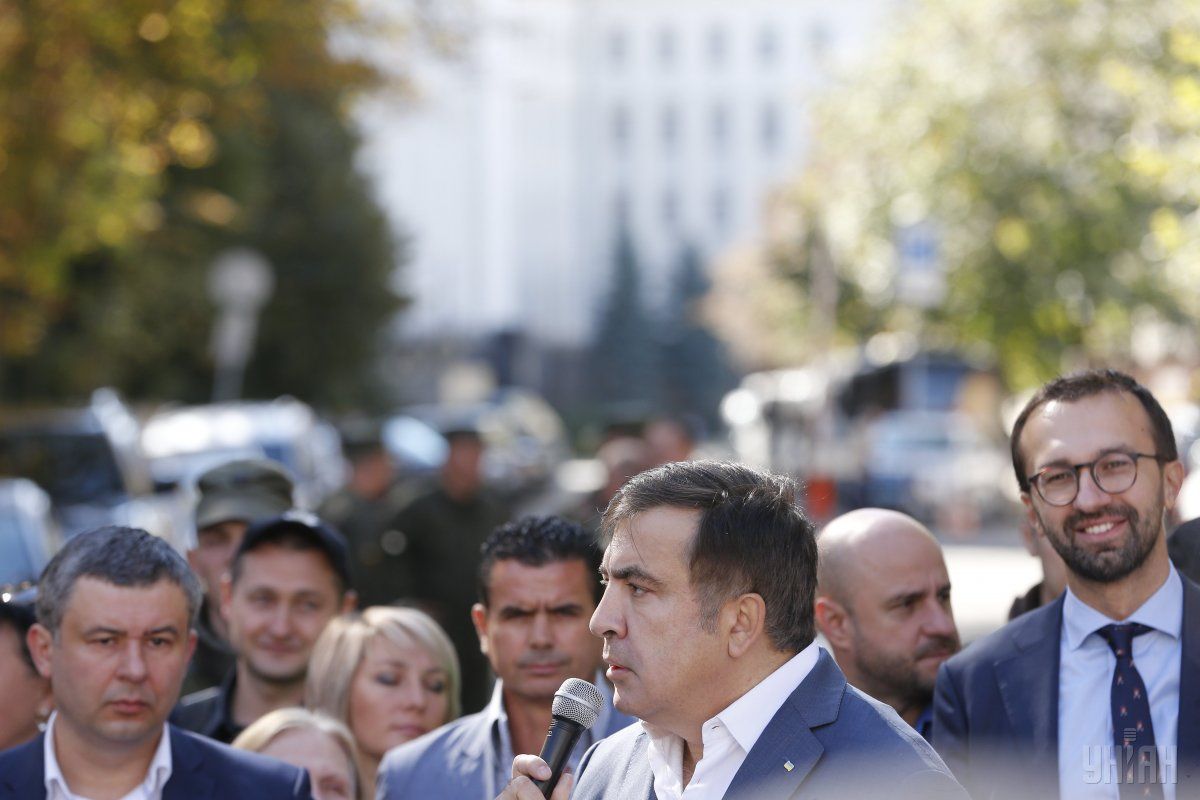 Photo from UNIAN
Speaking to journalists outside the building of the presidential administration on September 19, Saakashvili demanded that the presidential office and state bodies provide him and his lawyers with all the documents related to President Petro Poroshenko's decree stripping him of citizenship, RFE/RL said.
Saakashvili – formerly Georgian, then Ukrainian – has been a stateless person since Poroshenko's decision in July.
He defied Ukrainian authorities on September 10 and made a chaotic crossing into the country from Poland, helped by hundreds of his supporters.
Addressing supporters in the western city of Chernivtsi on September 13, Saakashvili said that he had returned to Ukraine to help solve the country's "political crisis" – "not simply" to challenge the revocation of his Ukrainian citizenship.
Read alsoSaakashvili in Vinnytsia: No plans to foment new revolution in UkraineOn September 18, a court in Ukraine's western Lviv region was scheduled to start hearings into what officials called his illegal entry into the country, but the hearing was postponed to September 22.
Ukraine's top prosecutor has said that Saakashvili will not be arrested or extradited to Georgia, where the ex-president is wanted on allegations of corruption during his time in office.
"Saakashvili will not be arrested in this case, Saakashvili cannot be extradited from this country while he has a residence permit or other document that he has filed," Prosecutor-General Yuriy Lutsenko said on September 16, suggesting that the stateless ex-leader may have a document allowing him to remain in Ukraine.
Lutsenko also said that those who helped bring Saakashvili across the border would face criminal charges but would not be arrested.
But he added that those who "beat Ukrainian border guards" would face arrest and prosecution.
Authorities claim that several border officers were injured in the altercation at the border with Saakashvili's supporters.
The Georgian government is seeking Saakashvili's arrest and extradition on allegations that he misappropriated property and abused his powers when he was president of his native country from 2004 to 2013.
He denies the allegations and says Georgia's extradition request was made on behalf of "oligarchs" who fear his presence in Ukraine.
After leaving Georgia for self-imposed exile in the United States in 2013, Saakashvili went to Ukraine in 2015 to work for the country's pro-Western authorities as governor of the Odesa region.
He lost his Georgian citizenship when he was granted a Ukrainian passport in 2015 because Georgia does not allow dual citizenship.
Saakashvili quit as governor in November 2016, complaining of official obstruction of anticorruption efforts, accusing Poroshenko of dishonesty, and charging that the government in Kyiv was sabotaging crucial reforms.