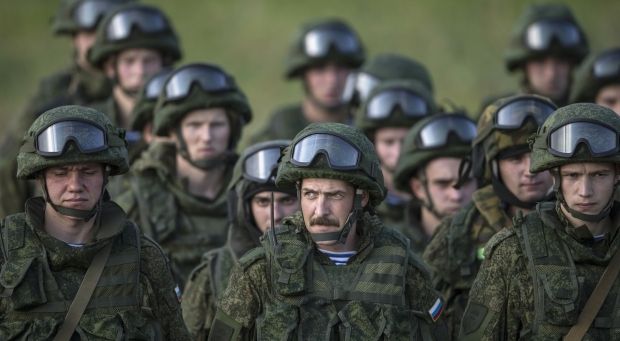 REUTERS
"A massive missile strike by Russia's armed forces once again confirms the aggressive and offensive nature of Russia's foreign and security policies, as well as its readiness to escalate tensions with the West, up to launching a full-scale war, which demonstrates Russia's desire to dominate Europe," Turchynov told UNIAN.
The NSDC secretary opines that active measures on the part of NATO and the U.S. Armed Forces to monitor Russian military activity show "a full understanding of Russia's military threat by Western military forces."
Missiles were fired at marine targets amid the final stage of the Zapad 2017 drills with involvement of combat crews of the Rubezh coastal missile systems in the Laptev Sea waters, the Northern Fleet naval grouping with a heavy nuclear-powered cruiser Peter the Great in the Barents Sea, and a combat crew of the Bastion coastal missile system from the 536th separate coastal missile and artillery brigade, according to the NSDC.
Read alsoEstonia's defense chief: Russia would intervene militarily in Belarus if neededAs UNIAN reported, the general strategic drills Zapad 2017 began on September 14 and lasted until September 20. The exercises were held at the training grounds across Russia and Belarus. Russia's Defense Ministry announced that 13,000 servicemen and 250 tanks would be involved in the exercises. According to NATO, from 70,000 to 100,000 servicemen were engaged in the drills.
Chairman of the NATO Military Committee, General Petr Pavel said that the exercises seemed more like preparations for a big war.
Read alsoPolish Def. Minister says Russia may use nuclear weapons in Zapad 2017 drillsThe Belarusian opposition feared that Russian President Vladimir Putin could use those exercises to initiate the annexation of Belarus.
In its turn, the Ministry of Defense of Belarus promised that all Russian soldiers who had taken part in the drills would leave Belarusian territory before September 30.
In total, 280 journalists, mostly from foreign media outlets, were accredited for the exercises, as well as observers were invited, including those from Ukraine and NATO member states.
NSDC Secretary Turchynov said that Russia exercised a massive nuclear strike test at the final stage of the Zapad 2017 war-games.