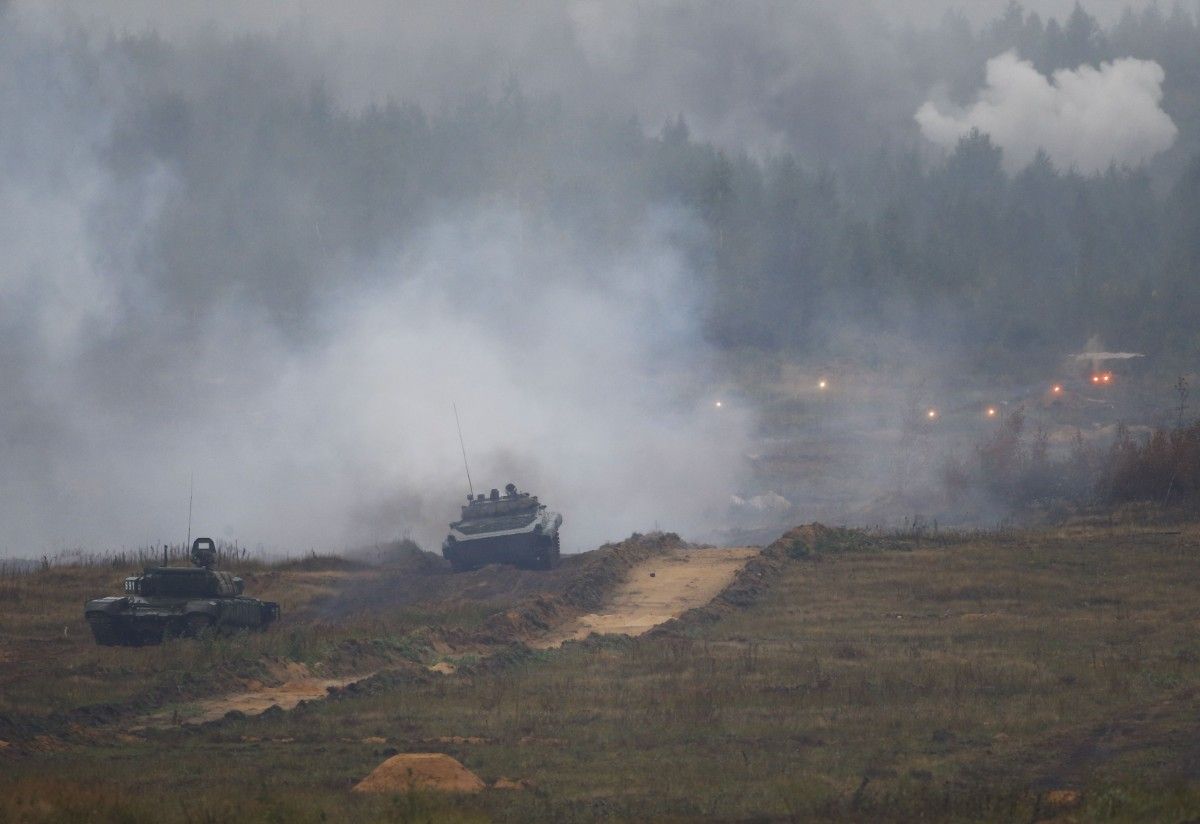 REUTERS
Ukrainian observers named "conditionally open" the process of monitoring at the joint strategic Russian-Belarusian exercises Zapad-2017 held in Belarus September 14-20, as stated in a statement by the General Staff of the Armed Forces of Ukraine.
The General Staff states that the part of the drills monitored by international observers was only "conditionally open", which made it impossible for representatives from the states invited to ensure that the declared objectives of the exercises were consistent with the actual forms and methods of the use of Russian and Belarusian troops.
Read alsoRussia ready for escalation with West up to full-out war – TurchynovIn particular, Ukrainian observers reached such conclusion as the host party, ignoring the provisions of the Vienna Document 2011 (VD-2011) did not allow access to certain training grounds.
The host party also denied the observers the right to communicate with military personnel of the Belarusian and Russian divisions provided for by the VD-2011. In addition, the Belarusian side denied the observers access to field camps of military units  of Belarus and Russia.
"The subject of the exercises and practical actions of the military units involved differed significantly. The defensive objective of the exercises during their conduct did not correspond to the plan. Military units carried out offensive missions, engaged the enemy in areas of their amassing, at airfields and routes of nomination," the report said.
Read alsoEstonia's defense chief: Russia would intervene militarily in Belarus if neededTwo representatives from Latvia, Lithuania, Norway, Poland, Sweden, Ukraine and Estonia participated in the monitoring of the exercises.
As UNIAN reported earlier, the joint strategic exercises of the armed forces of Belarus and Russia "Zapad-2017" were held on the territory of the two countries from September 14 to September 20. The Ministry of Defense of the Russian Federation said that 13,000 servicemen were taking part in the drills. According to NATO officials, 70,000 to 100,000 military personnel were in fact involved in the exercises.
Read alsoIncident at Zapad 2017 drills: Ka-52 attack helicopter fires missiles at spectators (video)Chief NATO official General Peter Pavel, said, the exercises resemble preparations for a big war.
President of Ukraine Petro Poroshenko condemned the drills while Secretary of the National Security and Defense Council of Ukraine Oleksandr Turchynov stated that Ukraine together with its partners would closely monitor the withdrawal of Russian troops from Belarus and their return to their permanent bases.