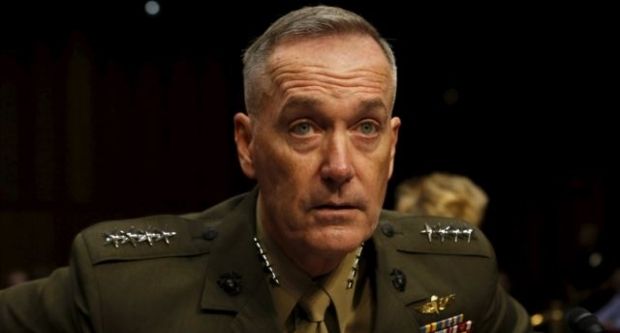 REUTERS
General Joseph Dunford, chairman of the Joint Chiefs of Staff, said in testimony before the Senate Armed Services Committee on September 26 that his proposal to increase lethal aid to Ukraine was pending at the White House for a decision, RFE/RL reported.
U.S. President Donald Trump's predecessor, Barack Obama, provided nonlethal military aid such as radar and goggle equipment to Ukraine, but had refused to provide lethal aid out of concern that it might escalate the war with Russia-armed separatists in eastern Ukraine.
But Dunford said, "In my judgment, from the military perspective, Ukraine needs additional capabilities to protect their sovereignty."
In particular, Dunford said, "we felt [an] ability to stop armored vehicles would be essential for them to protect themselves."
Read alsoPoroshenko says did not discuss Javelins with TrumpUkrainian leaders have urged the United States to send weapons and have asked in particular for portable Javelin antitank missiles, which soldiers in the conflict say are needed to fend off attacks from tanks and self-propelled artillery.
Dunford said the Pentagon in reviewing Ukraine's defenses against fighters equipped by Russia detected what he called a "gap" between Ukraine's defensive capabilities and its needs.
"We just looked at it as a military gap that existed, and if that gap was filled, it would increase the probability the Ukrainians could defend themselves," he said.
The White House's new U.S. special envoy for efforts to end the conflict in eastern Ukraine, Kurt Volker, has also advocated providing lethal aid to Ukraine, saying in an interview in July with RFE/RL it was needed to counter Russia's "large, large military presence" in eastern Ukraine.