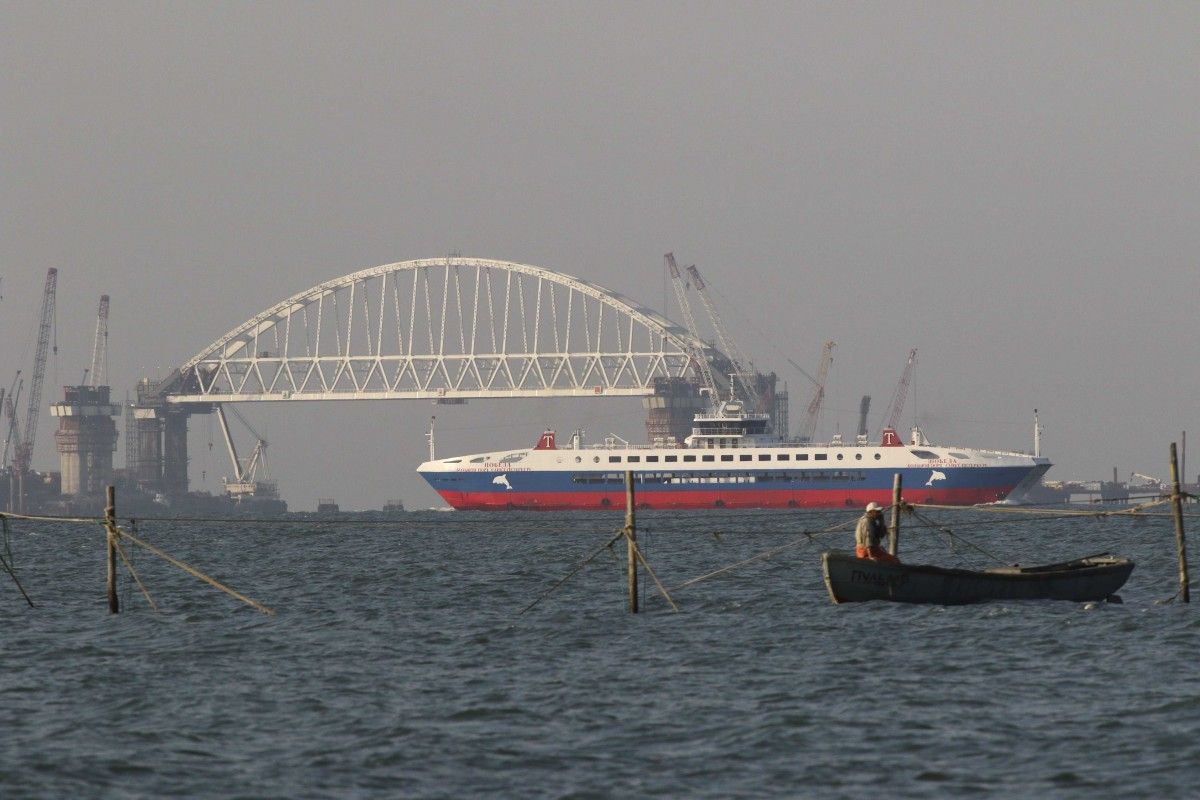 REUTERS
"The president instructed to sue the Russian Federation because of environmental damage from the construction of the Kerch bridge," Tsegolko wrote on Twitter.
As UNIAN reported earlier, right after the illegal seizure by Russia of the Crimean peninsula, on March 19, 2014, Russian President Vladimir Putin voiced the need to build a bridge which would connect the territory with Russia's mainland Krasnodar Krai. Subsequently, Russian Prime Minister Dmitry Medvedev signed off an order to appoint Stroygazmontazh, a company owned by Putin's crony Arkady Rotenberg, as a general contractor for the project.
Read alsoEU prolongs sanctions over actions against Ukraine's territorial integrityThe Russian government plans to have completed the pass over the Strait of Kerch before December 2018.
In May 2017, the Prosecutor's Office of the Autonomous Republic of Crimea (Ukraine) launched criminal proceedings to probe the fact of the bridge construction. "The construction of a bridge in the Strait could lead to an environmental disaster in the region. In violation of the requirements of the Water Code of Ukraine and the norms of international law, an object is being constructed posing a serious threat to the environment of the Black and Azov seas: pollution, violation of natural reproduction of aquatic biological resources and their destruction," the prosecutor's office said.
Also, the office noted that the construction would lead to a deterioration of navigation conditions across the Strait, and cause risks in the passage of vessels between bridge supports.
Read alsoTwo Dutch companies taking part in Kerch bridge construction projectAccording to the estimates provided by the Institute of Water Problems and Melioration of the National Academy of Sciences of Ukraine, the approximate damage to the environment of the Black and Azov seas during the construction of the Kerch bridge, if it is necessary to strengthen the sea coasts, will reach UAH 10 billion.
On August 22, the Ukrainian Crimea's prosecutor's office announced its intention to apply to NASA for expert assistance in the investigation process.
Read alsoUkraine accuses Russia of violating int'l maritime law due to Kerch bridge constructionThe Ministry of Foreign Affairs of Ukraine has stated that the construction of the bridge is being carried out in violation of international law, since Ukraine, as a coastal state in relation to the peninsula, gave no consent to such construction. MFA Ukraine also protested in connection with the unilateral introduction by Russia of restrictions on navigation across the Kerch Strait in August and September 2017.
Read alsoU.S. urges Russia to cease persecution of those opposing Crimea annexationThe Verkhovna Rada of Ukraine officially declared February 20, 2014, the date of the beginning of the temporary occupation of Crimea by Russia. Western states did not recognize the annexation of Crimea and imposed a series of economic sanctions against Russia. Moscow has denied any accusations of the illegal occupation of Crimea, calls its act "restoration of historical justice".