Defiant MP engages smoke grenade in Parliament (Video)
A smoke grenade was lit up in the Verkhovna Rada today by MP Yuriy Levchenko, who said he would "burn this parliament down" over the Rada's move to push forward the Donbas reintegration bill which the deputy sees as unconstitutional.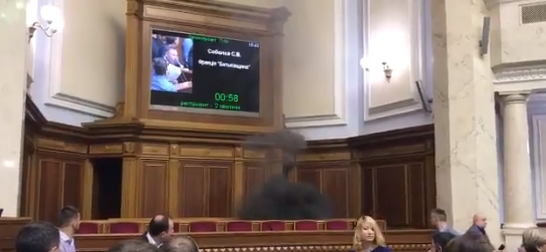 Screenshot
Meanwhile, the smoke grenade thrown has turned out to be of a combat-type, not to be used in closed premises, according to MP Volodymyr Ariev (BPP).
Read alsoRada recognizes Russia aggressor state as Donbas reintegration bill passes 1st reading"It was a combat-type smoke grenade, which in no case can be used in closed premises. Had [MP Andriy] Teteruk not thrown it out of the session hall, this could have led to a tragedy, especially given that there were children on excursion sitting on the [session hall's]  balcony at that time," he wrote on Facebook.
Ariev also noted the lightning-fast reaction by MP Teteruk, who rushed toward the smoke and took a smoke grenade out of the session hall.
If you see a spelling error on our site, select it and press Ctrl+Enter