Klimkin urges Hungary to leave out emotions, soberly assess situation with languages ​​in Zakarpattia
Ukraine's Minister of Foreign Affairs Pavel Klimkin in an op-ed for Hungarian Magyar Nemzet urged Hungary to leave out unnecessary emotions and soberly assess the actual situation with languages in schools across Zakarpattia region, MFA Ukraine reported on Facebook.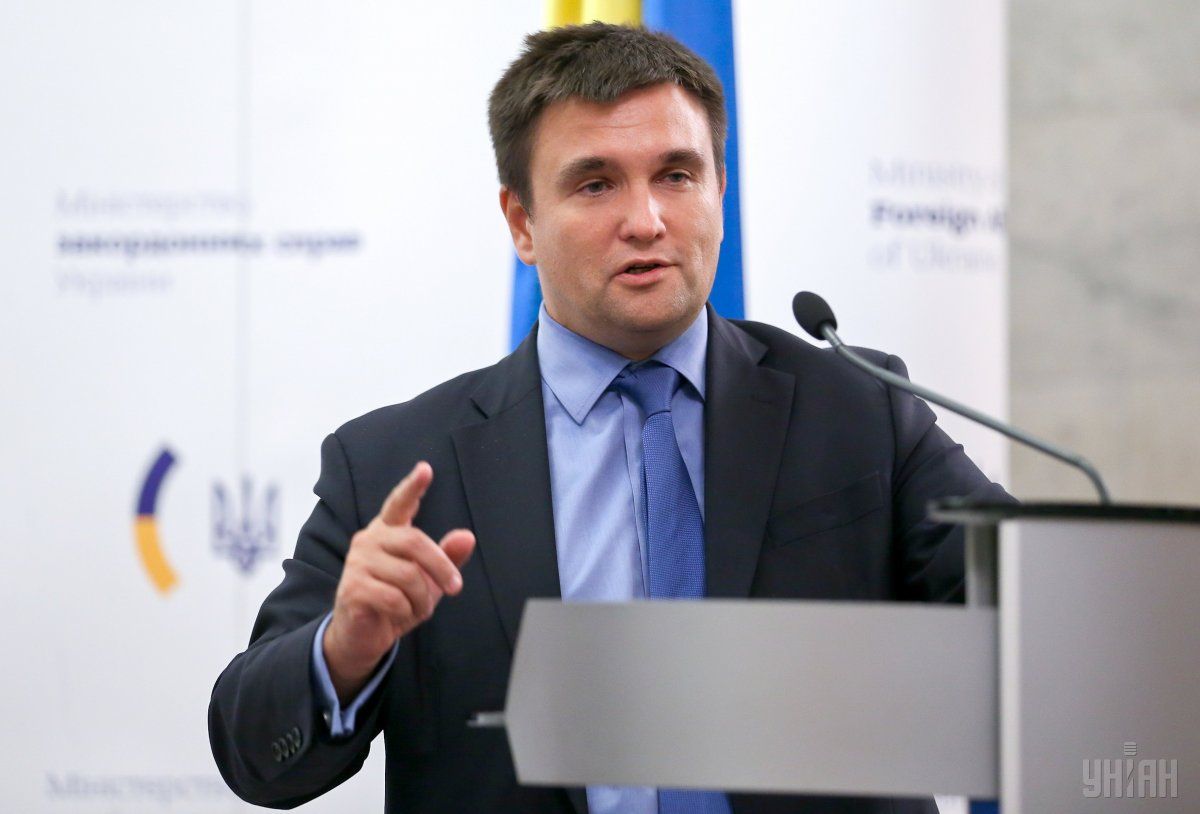 Photo from UNIAN
"First of all, I note that the law in question is in no way directed against the Hungarian and other national minorities of Ukraine. Its main goal is to bring the education system in our country to the norms and standards of the European Union and the demands of the 21st century, as well as to restore the full-fledged functioning of the state Ukrainian language, which for centuries of Russian colonization has been forcibly ousted from many important spheres of our society's life," the foreign minister wrote.
He added that Art. 7 of the law "provides for a radical improvement in the learning of the national language in schools of national minorities as a language of interethnic communication in Ukraine."
"It would seem a logical and necessary step, but it was it which was regarded in Hungary as an unconstitutional narrowing of the rights of the Hungarian community. In order to objectively see the situation, I urge you to leave out unnecessary emotions and exalted statements, and to soberly assess the actual situation with the Hungarian youth in Zakarpattia," the minister said.
Read alsoHungary's foreign minister refuses to meet with Ukrainian counterpart – media"Until now, in our Hungarian schools, the state Ukrainian language has been taught in such scanty share that at the completion of secondary education, most young Hungarians in settlements with compact minority residence practically can't speak Ukrainian and almost don't understand it. In Berehove district of Zakarpattia, 75% of graduates could not pass the all-Ukrainian mandatory test of the state language," wrote Klimkin.
"What does this mean in practice? This means that they will not be able to enter Ukrainian universities, and in the long term to find work in the state bodies of their country (I hope everyone agrees that it is really impossible without command of Ukrainian language to study in Ukrainian-language higher educational facilities and work in Ukrainian state bodies). And now comes the logical conclusion: not knowing Ukrainian in practice means national self-isolation and ghettoization for the Hungarian community. Such a situation can indeed be called discrimination, whereas a full learning of the state language, along with the just as thorough command of the native language, will give our Hungarians the opportunity to fully enjoy all the constitutional rights of the Ukrainian citizens. And this opportunity is provided to them by a new law on education," the minister explained.
As UNIAN reported earlier, Ukrainian President Petro Poroshenko signed into a law the bill on education, the language provisions of which (Article 7) have raised concerns among a number of EU states: Poland, Romania, Hungary, Greece, and Bulgaria.
Read alsoKlimkin invites EU ambassadors to Zakarpattia region over Hungary's position on education lawThe new law introduces a 12-year secondary education, while Ukrainian shall be the language of instruction in schools.
President Poroshenko instructed that the foreign ministry and ministry of education carry out necessary consultations with Ukraine's European partners, including with the Council of Europe.
On September 2, Klimkin submitted Article 7 of the new law on education (concerning languages in schools) for the assessment by Venice Commission. Its opinion will be handed down by December.
If you see a spelling error on our site, select it and press Ctrl+Enter