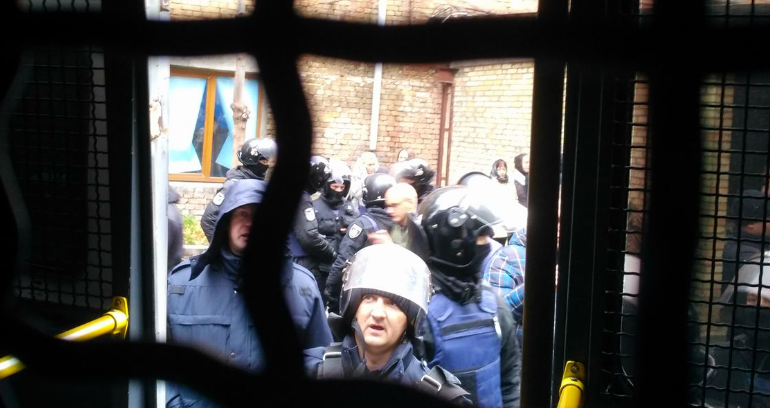 Photo from Facebook Serhiy Lefter
"There were many journalists in the courtroom, and most of them were working even during the escalation. Perhaps it [the detention] was an isolated case; it is not practiced by the police as a rule. We apologize to UNIAN and Serhiy Lefter for the fact that he had faced such trouble," Shevchenko said.
Answering a clarifying question why law enforcement officers used force against Lefter, even after he had shown his press card, Shevchenko said: "This could have been by mistake. It was pretty hot in there. Perhaps they did not see the card. If he files a claim, we will address it. Sometimes it happens when there are many people in the room – both journalists and those who do not belong to the press ... If your Serhiy thinks that the law has been violated, he can file a claim."
Read alsoRiot police detain UNIAN correspondent, about 20 supporters of OUN leader in Kyiv court's premises (Video)As UNIAN reported, Ukrainian riot police on Tuesday morning detained Lefter along with supporters of leader of the Organization of Ukrainian Nationalists (OUN) Volunteers Movement Mykola Kokhanivsky standing trial in Kyiv's Svyatoshynsky court.
Kokhanivsky's supporters barricaded themselves in the premises of the court in the early hours of Tuesday to prevent Kokhanivsky from being taken to a detention center after the court ruled on Monday evening to reschedule hearings for Tuesday morning.  Kokhanivsky later claimed the activists had been provoked by the police.
The police launched a criminal investigation into the incident under Article 194 of the Criminal Code of Ukraine (deliberate destruction or damage to property).
Chief of the Kyiv National Police's main department Andriy Kryshchenko said that 30 people had been detained in the courtroom, though earlier reports said there had been about 20 detainees.