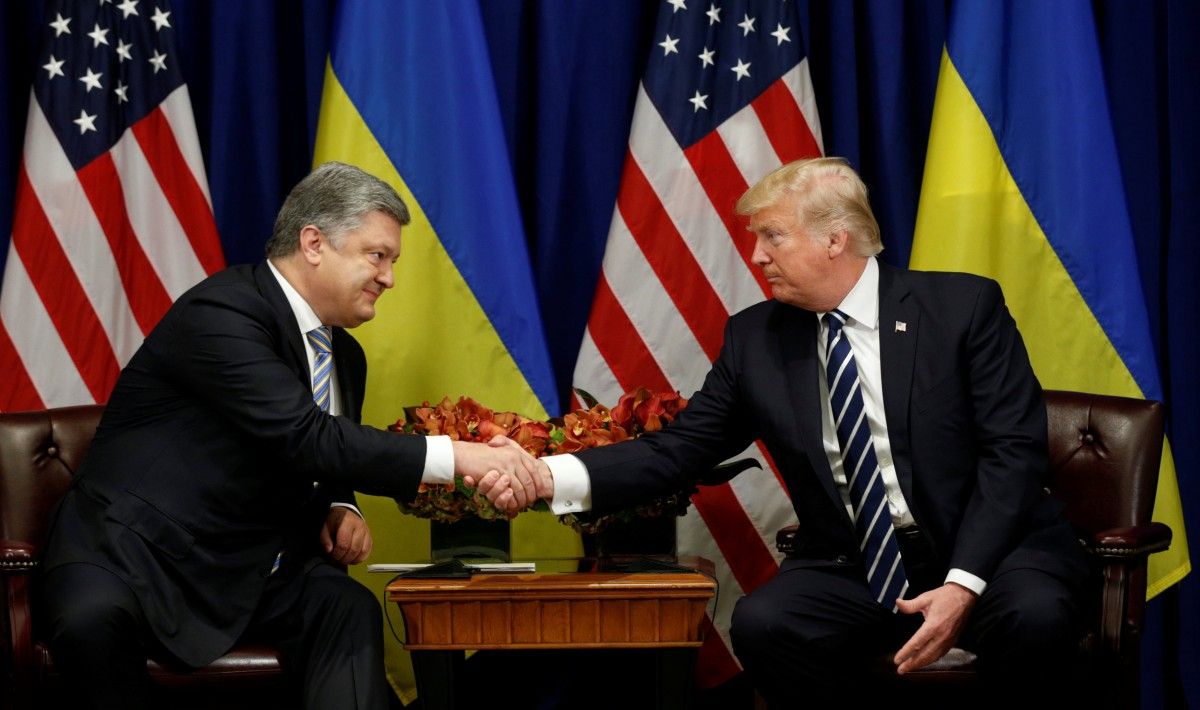 REUTERS
With the final decision on sending weapons to Ukraine sitting on U.S. President Donald Trump's desk, some Ukrainian politicians are rubbing their hands in anticipation, Foreign Policy said on Thursday, October 26.
"We are really satisfied with the acceleration of U.S.-Ukraine relations at the moment," Artur Gerasymov, a member of Ukrainian parliament and chairman of a military subcommittee, told Foreign Policy. In particular, Kyiv is excited by the prospect of getting not just moral support, but "concrete things," including "defensive lethal weapon provision to Ukraine."
"We are really on a very good track in this issue, and I believe that our strategic partner, the United States, will help us in this," Gerasymov said, noting that — against expectations — cooperation has accelerated with the arrival of the Trump administration.
Multiple current and former officials and congressional aides tell FP that the president is deciding on the dispatch of lethal aid for Ukraine, which is mired in a three-year conflict with Russian-backed separatists in the eastern part of the country. Sources say the defensive arms could include sniper rifles, counter-artillery radar, air defense hardware, and possibly even Javelin antitank missiles.
Read alsoTime for Trump administration to arm Ukraine, U.S. expert saysIf the United States were to finally send arms to Ukraine, it would mark a significant shift in U.S. policy — and a dramatic departure from Trump's campaign rhetoric. Ahead of the Republican National Convention in July 2016, the Trump team worked to make sure the platform would not include a call to arm Ukraine.
The National Security Council declined to comment, while the State Department did not immediately respond to a request for comment.
Former Obama administration officials said the State Department and Pentagon wanted to send Ukraine lethal aid from the start but were stymied by President Barack Obama and then-national security advisor Susan Rice. Instead, the United States offered small amounts of nonlethal aid, such as radios, night vision goggles, first aid kits, and military ambulances.
Not giving lethal aid "became the de facto policy, and then the urgency slipped away," Max Bergmann, an Obama administration State Department official, said.
Read alsoPoroshenko to meet with U.S. envoy Volker, no firm date confirmedKurt Volker, the Trump administration's special representative for Ukraine negotiations, supports sending lethal aid, as does the Pentagon, congressional staffers said.
Europe, on the other hand, is not so keen. "Many European allies would also likely react negatively to such a U.S. move," Erik Brattberg of the Carnegie Endowment for International Peace told FP. "This strategy is not risk-free and could easily backfire if Russia chooses to further escalate in return."
But more than three years into the conflict, Ukraine's defensive needs — and the weaponry it may get — aren't what they used to be, said Hannah Thoburn of the Hudson Institute. Anti-tank weaponry, for instance, would have been useful years ago, but "it's not clear to me at this point in the conflict it would be," she said. The war is now lower-intensity, characterized by mortar duels. "We're not necessarily talking rolling battles."