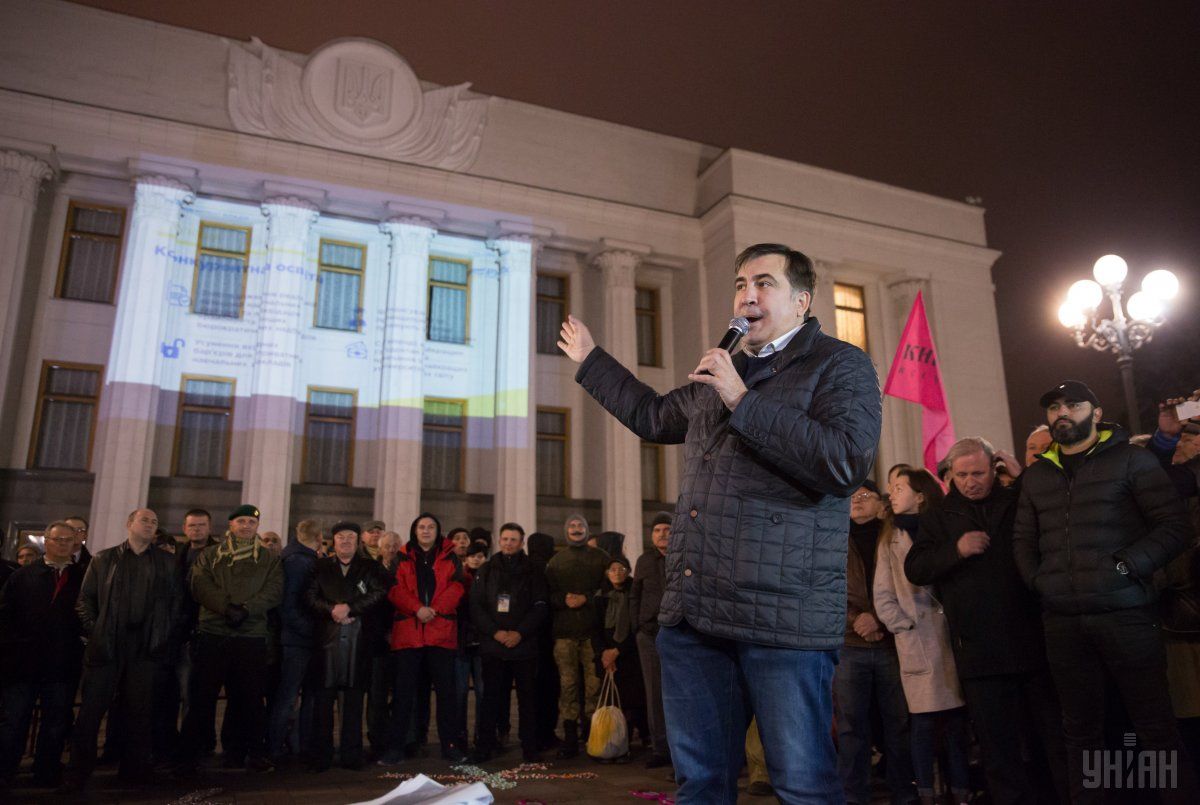 Saakashvili is rallying outside Ukraine's parliament / Photo from UNIAN
"If on November 7 they [the Ukrainian authorities] do not accept the demands [the cancellation of parliamentary immunity, the creation of an Anti-Corruption Court and voting on open party lists], then our ranks will expand by 100 times. On November 7, we are meeting here to give them a chance to satisfy our demands," he said at a recent gathering outside the parliament's building in Kyiv on Sunday afternoon.
He said there was little hope that the demands would be met. "We cannot stand here forever. If they do not satisfy, then we must find out other peaceful forms than simply staying by their windows. Our ranks should expand by 100 times to demonstrate that there are many of us together. They must leave," Saakashvili said.
He said that he had a plan to find decent politicians.
"We've got [MP Viktor] Chumak, who is ready to run for president. [Ex-defense minister and leader of the Civil Position party Anatoliy] Hrytsenko, Yulia [Tymoshenko] would like to. Well, who should be there? We say: we choose five people and let trusted experts who are unbiased, such as [journalist Dmytro] Gnap, [head of AntAC's board Vitaliy] Shabunin and others – let such people say if a candidate has commercial interests or not," Saakashvili added.
About 400 people gathered near the Verkhovna Rada's building on Sunday, October 29, for a rally.
Read alsoChief prosecutor Lutsenko accuses protesters near parliament of plotting coup for KremlinAs UNIAN reported, a protest campaign started outside the Verkhovna Rada's building on October 17. Protesters demand the cancellation of parliamentarian immunity, the creation of an anti-corruption court and amendments to election laws. The adoption of a law on president's impeachment has recently been added to the list of their demands.
Activists set a tent camp, which partly occupied Hrushevsky Street's traffic area. Several clashes between protesters and police have been reported.
The organizers of the campaign are the Samopomich Party, the Batkivshchyna Party, the Movement of New Forces, the 5.10 party, the Svoboda Party, the National Corps, Right Sector, and a number of NGOs.