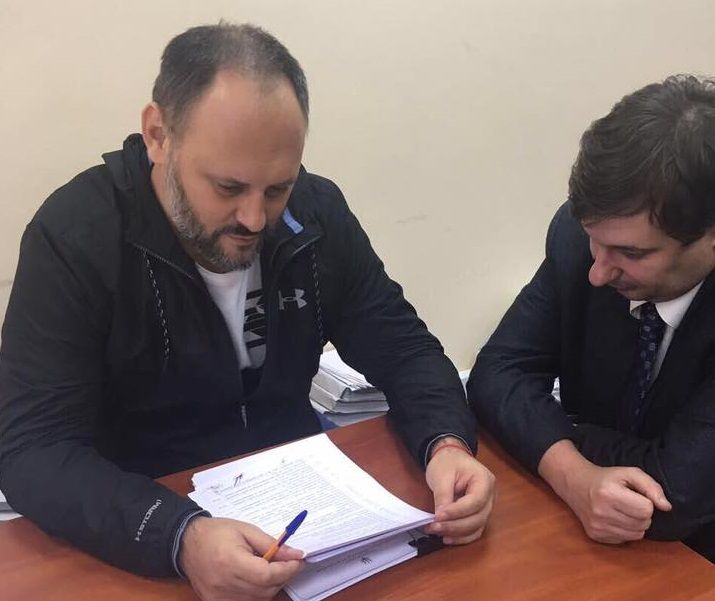 Kaskiv / facebook.com/LlutsenkoYuri
"On the night of November 1, by joint efforts of the Prosecutor General's Office (PGO) and the SBU Security Service of Ukraine, former head of the State Agency for Investment and National Projects Vladyslav Kaskiv, who is suspected of embezzlement of public funds worth about UAH 7.5 million in 2012 in collusion with other persons, was extradited from Panama to Ukraine," Lutsenko wrote on Facebook.
Read alsoPGO: Ex-head of investment agency Kaskiv released in Panama on $600,000 bailKaskiv has been brought to the PGO's main investigative department, investigative actions are underway.
According to Lutsenko, Kaskiv's extradition is the first case of the forced return of a former public official.
As UNIAN reported earlier, Kaskiv headed the State Agency for Investment and National Projects of Ukraine in 2010-2014.
On August 18, Lutsenko announced that Kaskiv had been detained by Panamanian law enforcement agencies.
Ukrainian Interior Minister Arsen Avakov claims that Kaskiv siphoned UAH 255 million ($10.2 million) from Ukraine.
Late in March this year, Kaskiv was put on the international wanted list. He is charged with embezzlement of public funds in 2012-2013 (UAH 7.5 million) under an agreement on advertising services, which was brokered by Kaskiv with a limited liability company.
Deputy Prosecutor General Yevhen Enin said on August 20 that the PGO had sent a request to Panama for Kaskiv's extradition.
A court in Panama granted Kaskiv bail set at $600,000.
Enin said Kaskiv had applied for political asylum in Panama, though his chances of staying in that country were extremely low.