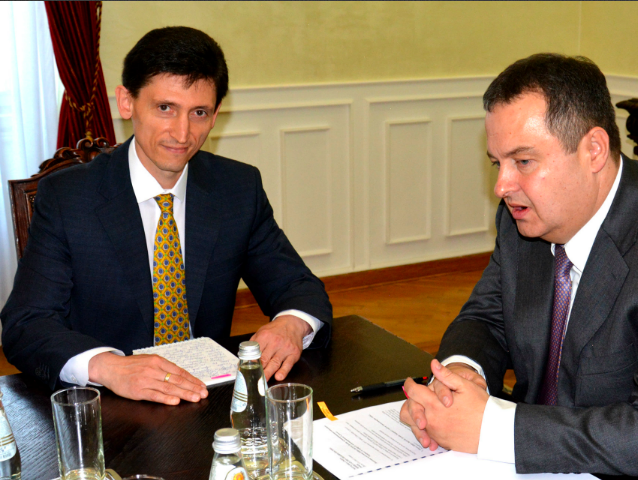 mfa.gov.rs
"Serbia is not doing enough to solve this issue," Ukraine's ambassador to Serbia, Oleksandr Aleksandrovych, told BIRN, of the phenomenon of Serbs traveling to Ukraine and fighting on the side of pro-Russian forces in the east. Kyiv has warned Serbia about this problem repeatedly but to no avail, he adds, according to Balkan Insight.
Aleksandrovych told BIRN that, according to their information, some 300 Serbs are currently fighting in the conflict in Ukraine.
Such activity is considered terrorism by Ukraine. In 2014, Serbia passed a law prohibiting its citizens from fighting on foreign battlefields.
But Serbia continues to ignore this problem, the ambassador said, adding that he believes that the present links between Serbs and Russia are a setback for resolving this issue.
Read alsoU.S. envoy urges Balkan States to guard against Russian influence efforts – media"Not one Serbian citizen has been put in prison for his mercenary activity against Ukraine. If I am wrong, I invite the Serbian government to disprove my words," he added.
"These Serbian mercenaries discredit the Serbian nation in the eyes of the friendly Ukrainian people, who never did anything bad against the Serbs," Aleksandrovych added.
"Our parliamentarians do not travel to Kosovo. We play our football or basketball games against Kosovo on neutral fields because we do not recognize Kosovo passports. And Ukrainians do not come to Serbia to kill Serbs," he added.
He also spoke about Russia's various destabilizing actions in the Balkans.
Read alsoSurveillance photos 'show Russian intelligence officers plotting Montenegro coup' – The Telegraph"Russia trains Serbian mercenaries to kill Ukrainians. Russia used Serbian extremists to make a coup d'etat in Montenegro. Russia encourages Serbian separatism in Republika Srpska to destabilize Bosnia and Hercegovina.
"Russia uses Serbian factor to destabilize Macedonia. Russia plays an active role in putting Serbian Kosovars against Albanian Kosovars. Russia sells its airplanes to Serbia to create tensions with Croatia," he said.
"Is that what the Serbian people really want? You allow Russia to use you to destroy Europe where you want to go study and to work. It does not make any sense. That is why Western officials ask Serbia not to sit on two chairs," Aleksandrovych explained.