Hungarian defense minister avoids answering question on Budapest using NATO as blackmail tool
Minister of Defense of Hungary Istvan Simicsko chose not to answer an UNIAN correspondent's question regarding Budapest's use of NATO as an instrument of blackmail in the row over Ukraine's education law.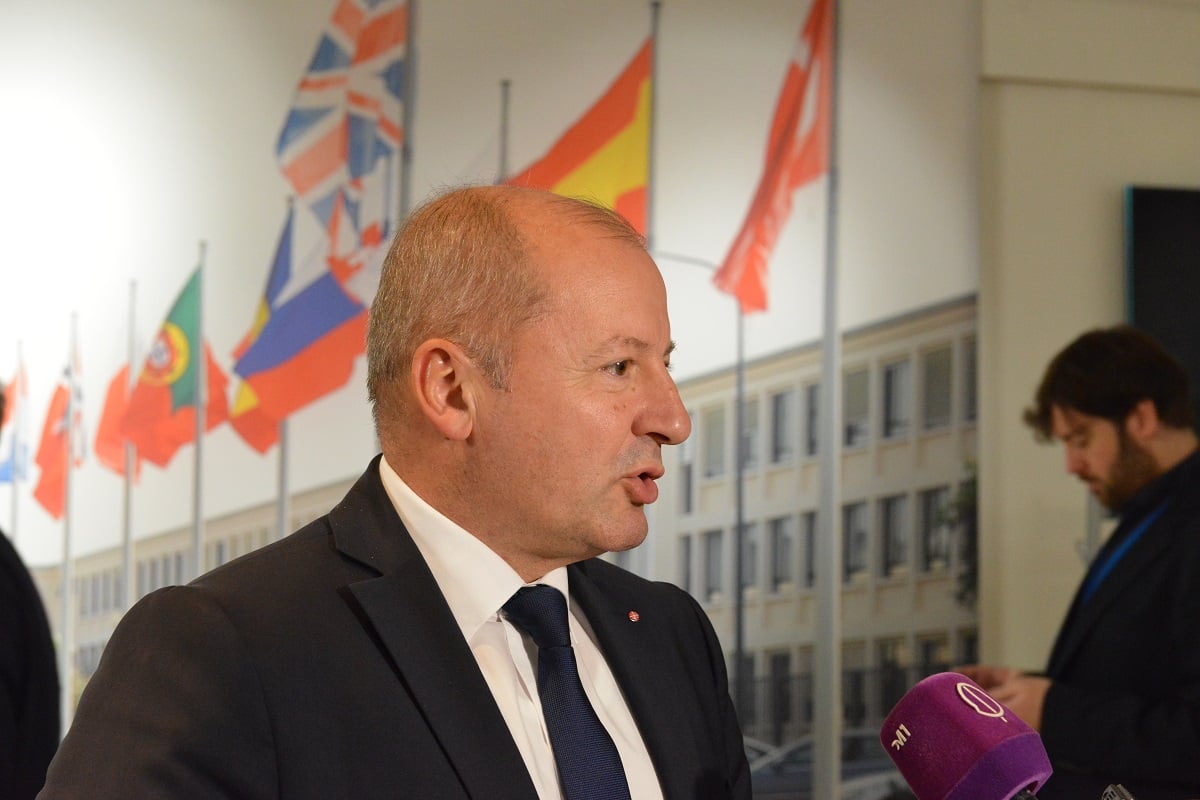 Photof from UNIAN
Asked to deliver a short comment on the issue, Simicsko said he would do it "next time," while the UNIAN correspondent noted that he was speaking to reporters "right now."
The Hungarian minister said, "There is a special law in Ukraine. We have to discuss it. We help Ukraine, we support Ukraine, we have Ukrainian soldiers who are [wounded] and came to Hungary. We need to correct education law."
Asked by the UNIAN correspondent, why in this case Hungary blocks further meetings of the Ukraine-NATO Commission, Simicsko  said "Thank you very much!"
As UNIAN reported earlier, in late October, Hungary said that it stood against holding of a Brussels meeting in Brussels of the Ukraine-NATO Commission December 6, 2017.
According to Hungarian Foreign Minister Peter Szijjarto, until early September, Hungary was among those who were "most actively" advocating such meeting, but after the education law was passed in Ukraine, it feels as if it was "stabbed in the back." At the same time, he stressed that Budapest was ready for consultations, but cannot accept the situation when, as Szijjarto puts it, the law takes away the previously granted rights of national minorities.
He has added that currently there is no way to bypass the Hungarian veto since the convening of a NATO-Ukraine Commission requires a unanimous vote.
Vice Prime Minister of Ukraine for European and Euro-Atlantic Integration Ivanna Klympush-Tsintsadze says that the North Atlantic Alliance is concerned over Hungary's position on blocking the meeting of the Ukraine-NATO Commission.
"Ukraine is concerned over Hungary's stance of ultimatums, which they show in the context of their dissatisfaction with the language clause of the education law. Our attempts to engage in a dialogue are being shattered by the unwillingness of the Hungarian side. We also see a serious concern within NATO that one of the Allance's members is blocking the effective development of further and scheduled meetings between Ukraine and NATO. This is perceived very negatively, as unacceptable behavior, and there is an interest in solving this issue at the bilateral level between the two states. We see that our initiatives are not enough, and therefore we expect that our partners will talk with Hungary from the perspective of objective arguments," she said.
"We are asking our partners to talk directly with Hungarian leaders," Klympush-Tsintsadze said.
If you see a spelling error on our site, select it and press Ctrl+Enter