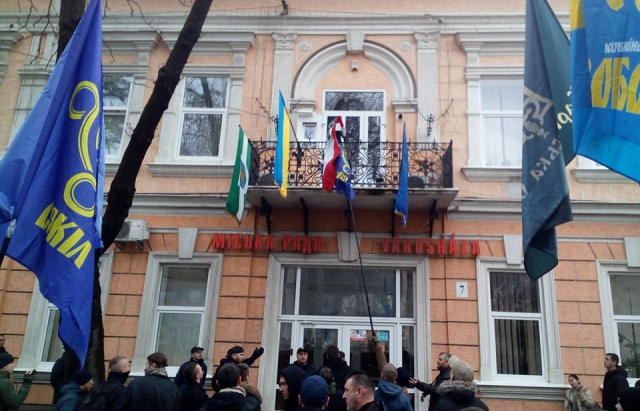 Photo from mukachevo.net
"The perpetrators should be detained and punished as soon as possible," the minister said at a press conference held on the sidelines of EU foreign ministers in Brussels on Monday, November 13, Evropeiska Pravda said.
Ukraine's Ambassador to Hungary will also be summoned over the incident, he added.
Szijjarto insisted that "such developments cannot be tolerated in a country aspiring for European integration."
Read alsoHungary blocking effective development of further Ukraine-NATO meetings – Ukraine Vice PMAs UNIAN reported earlier, about 50 members of the Ukrainian nationalist party Svoboda on November 12 removed the Hungarian flag from the Berehove Town Hall's building in an attempt to burn it. It happened during mass events devoted to the 79th anniversary of the creation of the Carpathian Sich organization. Local police seized the flag and fixed it back on the building.
Zakarpattia regional governor Hennadiy Moskal said in a comment that such incidents are inadmissible in the multi-ethnic region. The political forces that staged the act of provocation have no support in the region, he added.
Reference information. The Carpathian Sich was formed in November 1938 under the newly elected moderate Ukrainian nationalist prime minister of the Subcarpathian Autonomous Region within Czechoslovakia, Avgustyn Voloshyn. The Carpathian Sich was based in Khust. It was led by Dmytro Klympush and Ivan Rohach, and performed paramilitary and police duties in adjust with Czechoslovak forces. Although the Carpathian Sich's leaders were local Transcarpathian Ukrainian nationalists, most of its forces consisted of Ukrainian activists who crossed over the mountains from Galicia