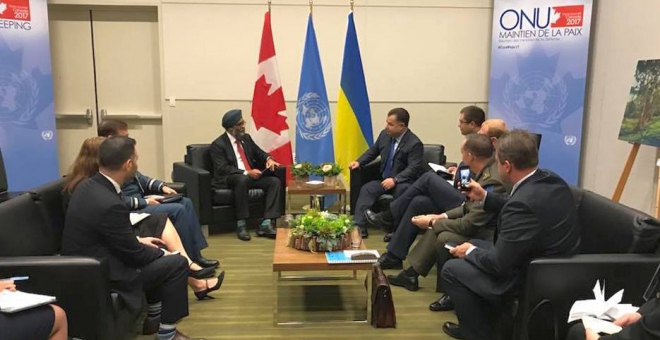 mil.gov.ua
"We rule out any possibility of Russia's participation in the forthcoming mission, I believe that the mission in Donbas is possible with the support of our international friends. We will succeed in implementing what we've planned," Poltorak said.
The minister has noted that Ukraine consistently stands for the mission's deployment throughout the entire uncontrolled territory of Donbas, provided the peacekeepers also gain control over the Ukrainian-Russian border.
Read alsoRussia rejects 26 of 29 U.S. proposals for UN peacekeeping force in Donbas"Our main criterion is that the future UN peacekeeping mission with the mandate for action should be deployed throughout the entire temporarily occupied territory; the principal requirement is to ensure international control over part of the Russian-Ukrainian state border in the conflict zone, and the withdrawal from Ukraine of all illegal armed formations and units of the Russian Federation, as well as the establishment of a mission to monitor the storage of heavy weapons," Poltorak said.
UNIAN memo. On September 20, Ukrainian President Petro Poroshenko appealed to the UN Security Council on the deployment in Donbas of a peacekeeping mission. Speaking at the general debate of the 72nd session of the UN General Assembly, he stressed that the UN peacekeeping mission should be deployed throughout the entire occupied Donbass, including the border with Russia.
Read alsoTurchynov: Russia pulling in troops to Ukraine border to "repaint" them for peacekeepersIn turn, the Russian Federation declares that a full-fledged peacekeeping operation in the occupied Donbas is unacceptable from the perspective of Minsk agreements, and insists that UN peacekeepers should be deployed only along the line of demarcation in Donbas to ensure the safety of the OSCE Special Monitoring Mission's observers.
On November 11, Ukrainian Foreign Minister Pavlo Klimkin said that Ukraine, the United States, and Germany have practically prepared a draft UN resolution on the peacekeeping mission in Donbas.