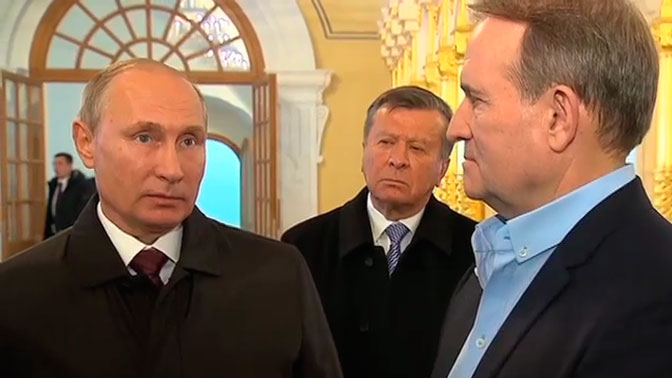 Putin and Medvedchuk at the New Jerusalem Monastery outside Moscow / Screenshot
Putin on November 15 told Viktor Medvedchuk, leader of the pro-Russia Ukrainian organization Choice, that "I will do all I can," RFE/RL said.
"I will talk with the leaders of both the Donetsk republic and the Luhansk republic...And it should be done as soon as possible," Putin said, speaking after meeting Medvedchuk at the New Jerusalem Monastery in the town of Istra outside of Moscow.
Read alsoUkraine seeks foreign diplomats' assistance as 157 Ukrainians still held in captivity in DonbasIt is not clear in what manner Putin would speak with the separatist leaders.
Russia has been officially denying any involvement in the ongoing conflict in the two regions, where the separatists have had control of some districts since the spring of 2014.
If Putin does speak to the Russia-backed separatist leaders, it would be a rare public acknowledgment of such direct contacts.
In the past, the only official platform for Putin to meet the separatist leaders was during talks in Minsk, Belarus, in September 2014, where Kyiv, Moscow, and the separatists signed the Minsk Protocol to halt the war.
The agreement failed to stop fighting in Ukraine's east, and a second gathering in Minsk was held in February 2015, attended by leaders of Ukraine, Moscow, France, and Germany.
Medvedchuk, who has personal ties with Putin – the Russian leader is the godfather of his 13-year-old daughter, Darina – told Putin that Ukraine authorities have said they are ready to release 306 prisoners captured during the conflict in exchange for 76 Ukrainians held by the separatists.
Medvedchuk said the pace of prisoner exchanges has been slow because of the "all-for-all" formula that has been established by the opposing sides.
Russia has given the separatists crucial support throughout a war that has killed 10,000 people in eastern Ukraine since April 2014, but it does not recognize the areas they hold as sovereign and says it supports Ukraine's territorial integrity.