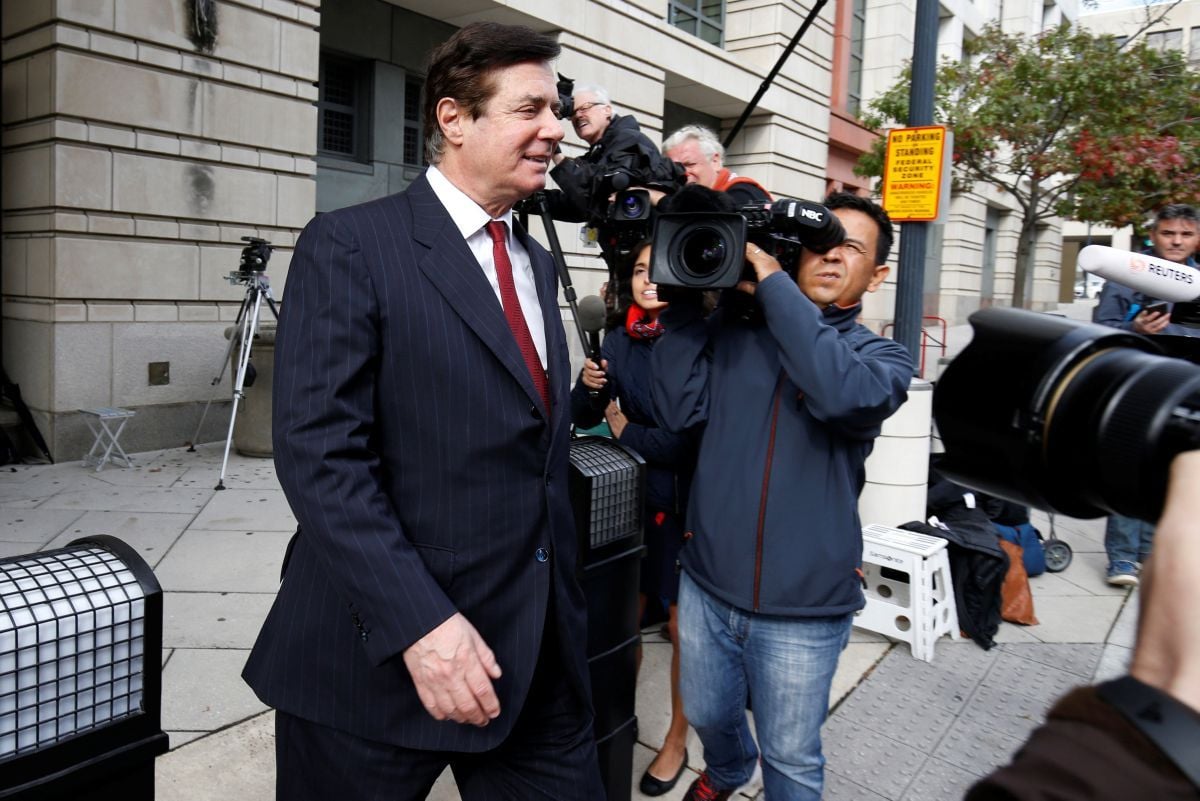 REUTERS
Manafort's flight records in and out of Ukraine, which McClatchy obtained from a government source in Kiev, and interviews with more than a dozen people familiar with his activities, including current and former government officials, suggest the links between Trump's former campaign manager and Russia sympathizers run deeper than previously thought.
Over those years, Manafort visited Ukraine at least 138 times. His trips between Ukraine and Moscow all occurred between 2005 and 2011 and were mostly in 2005 and 2006. He was in frequent contact with Vladimir Putin's allies for nearly a decade as a consultant in Russia and Ukraine for oligarchs and pro-Kremlin parties.
Read alsoUkraine prosecutor says puzzled by lack of U.S. assistance on Manafort caseEven after the February 2014 fall of Ukraine's pro-Moscow President Viktor Yanukovych, who won office with the help of a Manafort-engineered image makeover, the American consultant flew to Kyiv another 19 times over the next 20 months while working for the smaller, pro-Russian Opposition Bloc party.
What's now known leads some Russia experts to suspect that the Kremlin's emissaries at times turned Manafort into an asset acting on Russia's behalf. "You can make a case that all along he ...was either working principally for Moscow, or he was trying to play both sides against each other just to maximize his profits," said Daniel Fried, a former assistant secretary of state who communicated with Manafort during Yanukovych's reign in President George W. Bush's second term.
Two former U.S. government officials with knowledge of the way Putin operates said three of the oligarchs with whom Manafort had contacts – Deripaska, Dmitry Firtash, who helped finance the party behind Yanukovych, and Medvedchuk – were potential conduits with the Kremlin.
Read alsoBloomberg: Manafort charges renew questions about Skadden's work in UkraineProsecutors have charged that Manafort and associate Rick Gates funneled through a maze of foreign accounts at least $75 million in consulting fees from an array of Kremlin-leaning clients: Russian billionaire Oleg Deripaska, who secretly paid them $10 million annually for several years; a second Ukrainian oligarch; and the ruling Party of Regions, which supported Yanukovych until corruption allegations and bloody protests led to his overthrow in February 2014.
In July 2016, weeks after he was named Trump's campaign chairman, Manafort crafted an unusual, eyebrow-raising proposal for Deripaska, a member of Putin's inner circle. In emails first reported by the Washington Post, Manafort offered in seemingly coded language to provide "private briefings" on the U.S. presidential race for the Russian aluminum magnate. Manafort directed a trusted associate, Konstantin Kilimnik, who was Yanukovych's former consultant, to relay his message to Deripaska.
Read alsoManafort took 18 trips to Moscow during work in Ukraine: report Deripaska, who did not respond to a request for comment, has denied seeing Manafort's proposal and says it went nowhere.
Details of Manafort's contacts with Medvedchuk could not be learned. But Medvedchuk, who is under U.S. sanctions, has acknowledged meeting Manafort once in 2014.
In April 2014, for instance, Manafort traveled to Vienna. Ukrainian oligarch Firtash had been arrested there the prior month on U.S. charges that he helped orchestrate an $18.5 million bribery scheme involving the government of India, a U.S. firm and a Firtash company in the Virgin Islands. A former U.S. government official, who declined to be identified because of the sensitivity of the matter, said Manafort met with Firtash in Vienna, where he is awaiting extradition to the United States.
Another Manafort trip that could interest investigators took place in July 2013 when Manafort and Kilimnik flew to Frankfurt on a private plane owned by Andriy Artemenko, a Ukrainian businessman who later became a pro-Moscow Ukrainian people's deputy.
American experts on Russia said privately they suspect the trip was a prelude to a broader Russian influence effort to dissuade Yanukovych's government from signing an agreement to associate with the European Union. That decision, experts say, opened the door to Russia's 2014 invasion of eastern Ukraine.