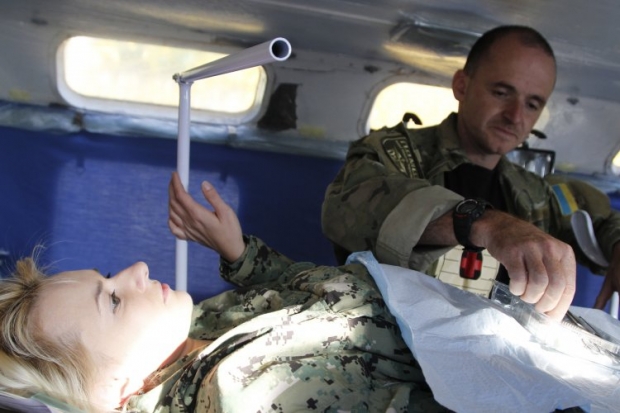 Photo illustration from UNIAN
"We want to make sure that Ukrainians, Americans, Canadians, Poles, Lithuanians— any coalition forces here—that they're safe, and that if something does happen downrange we can effectively communicate," said Capt. Michael Doyle, the 27th IBCT's physician assistant, National Guard reports.
The mission in Ukraine presents unique challenges. If there were a real medical emergency, the U.S. unit on ground would not only have to coordinate with their multinational partners, but also with host-nation, public facilities.
The exercise served as a way for the 45th IBCT to pass on their knowledge of the operational environment to the 27th IBCT.
"This is a very unique place, but we work really well together and we're all one team; we have to work together to be successful," said Capt. Joseph Hoskins, the 45th IBCT's physician assistant.
Planned by the 45th IBCT, the training scenario was designed to test every aspect of the incoming unit's readiness to respond.
Read alsoU.S. Senator visits Oklahoma National Guard in Ukraine, writes letter to Trump"This is a post-wide exercise," said Hoskins. "We want everyone, from the medics to the personnel on base, to know exactly the plan, know the routes, know exactly what to do."
In the scenario, a mortar tube explodes causing seven casualties and overwhelming medical assets on site. Some of the simulated casualties could be treated at the battalion aid station, while others were more severe and had to be evacuated to the local civilian hospital.
Read alsoUkraine reports significant losses in heavy fighting in Luhansk sector in last dayThe aim of the exercise, said Hoskins, was to identify shortfalls and exercise the communications plan.
"We want to get the nuances figured out now, so that if a real event happens, there are no significant hiccups," said Doyle. "The continuity has been great, the 45th has helped us a lot, but now it's our job to take what they have, assess it and make it even better."