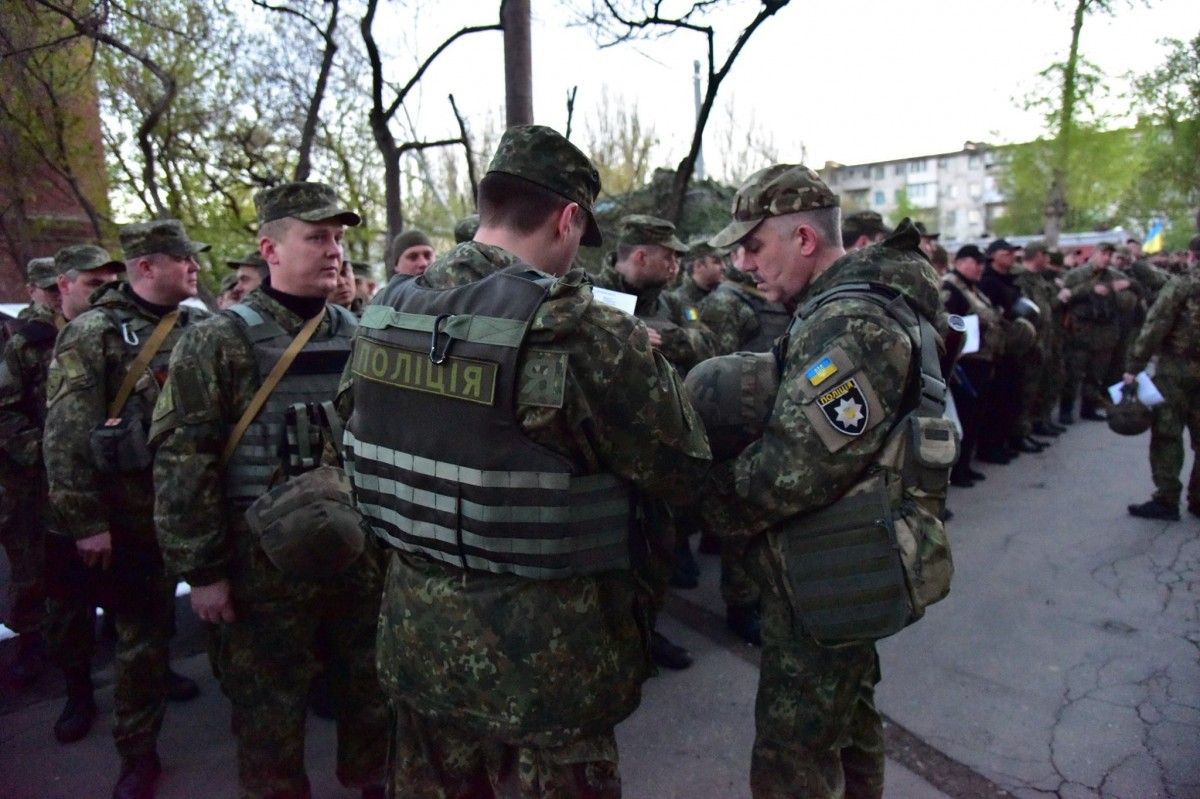 Ukrainian police / Photo from Viacheslav Abroskin's Facebook page
"One of the former leaders of the Donbas Battalion and his accomplice have been detained for an attack on a security guard of a privately owned agricultural enterprise in Kirovohrad region. This happened in July this year," the ministry wrote on Sunday, November 26.
Investigators opened a case against them under Part 2 of Article 187 (robbery) of the Criminal Code of Ukraine. The detainees were indicted in absentia.
Read alsoRiot police detain UNIAN correspondent, about 20 supporters of OUN leader in Kyiv court's premises (Video)NGO Rukh Vyzvolennya (Liberation Movement) has earlier reported that on Sunday, November 26, second commander of the Donbas Battalion and member of the so-called Headquarters of Blockade of Trade with Occupiers Anatoliy Vinohorodsky (nom de guerre "Gal") was kidnapped in Kyiv while volunteer of the OUN Battalion Leonid Lytvynenko (nom de guerre "Bek") was reportedly abducted in the town of Novohrad-Volynsky in Zhytomyr region.
The Liberation Movement shared footage showing the abduction of Lytvynenko.
"Both are charged with some kind of an attack in Kirovograd region, but they are taken to the known destination – to an investigator of the Donetsk police, Artem Podvih [in Mariupol, Donetsk region]. It was him who has managed to secure the arrest of Oleksandr Novikov, a war veteran from the Donbas Battalion (nom de guerre "Hammer"), in a court hearing behind closed doors today," MP Yegor Sobolev wrote on Facebook on Sunday evening. "Friends, they can seize them, as most of people in Ukraine are now keeping silent or think they are 'gangsters.' They all – 'Hammer,' 'Gal' and 'Bek' – were among the organizers of the camp of the Liberation Movement on Hrushevsky Street [in Kyiv], where we came out in demand for the adoption of anti-corruption laws."
Sobolev called on Ukrainians to join in activists of the camp. "We are inviting all those who are against the transformation of our country into the 'DPR' [self-proclaimed 'Donetsk People's Republic'] to a general gathering at 19:00 tomorrow [Monday, November 27]," he added.
Another MP Semen Semenchenko posted footage how police together with a riot unit were blocking Liberation Movement activists outside Kyiv not letting them enter the city.