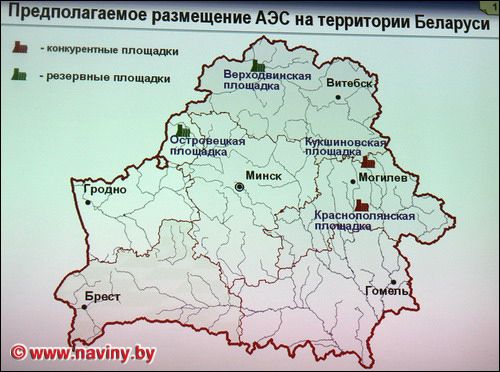 The project, approved by president Alexander Lukashenko's government in 2008 and spearheaded by the Russian state energy corporation Rosatom, is being nearly completely financed by Moscow with a US$10 billion loan, The National reports.
The construction of the reactor initially revived bad memories in a country that had a quarter of its territory covered with radiation from the 1986 explosion at the Soviet-era plant in Chornobyl.
Rosatom calls the reactors "the most modern in the world" and says that they "respect all international norms".
Read alsoRadioactive cloud in Europe came from Russia or Kazakhstan - watchdogHowever, Vilnius denounced the project as a violation of "international nuclear and environmental safety requirements", as it is located 20 km from the EU border and only 40 km from the Lithuanian capital.
But Russia's long silence about a leak of a radioactive isotope in September, first made public by French authorities, has revived memories about the Soviet Union's initial denial then downplaying the danger the Chernobyl accident posed.
Rosatom denied last week the ruthenium-106 came from its facilities after Russia's meteorological service confirmed "extremely high" concentrations of the isotope about 30 kilometres from a site where the firm reprocesses spent nuclear fuel.
Lithuania's foreign ministry spokeswoman, Rasa Jakilaitiene, accused Minsk of trying to conceal information and minimizing the consequences of "at least six incidents" that occurred at the Ostrovets plant in 2016.
The Baltic country even adopted a law declaring the nuclear plant a national security threat.
"In accordance with the law, no electricity from the Ostrovets nuclear power plant will be able to enter the Lithuanian power market, nor the European electricity market," said the spokeswoman of Lithuania's energy ministry Aurelija Vernickaite.
Read alsoRussia confirms radioactivity emanating from southeastern Urals – mediaThis closes a potentially important market for the nuclear plant with a capacity that exceeds the needs of Belarus' relatively small population of 9.5 million people.
Minsk has even considered having factories run overnight in order to use the surplus electricity.
Another thorny issue is the processing of radioactive waste, which the Belarusian government says it is working on.
Constructing the plant was primarily seen as a means for Russia's Vladimir Putin to extend his economic influence in the former Soviet Union.
Moscow has often used its oil and gas deliveries as a means to influence Belarus and Russia's other former Soviet neighbors.
"It is a very sensitive security and energy question - dependence on one country, especially if it restricts current energy deliveries," Alexander Mikhalevich, an expert in nuclear issues at Belarus' Academy of Sciences, said during a recent energy conference in Minsk.