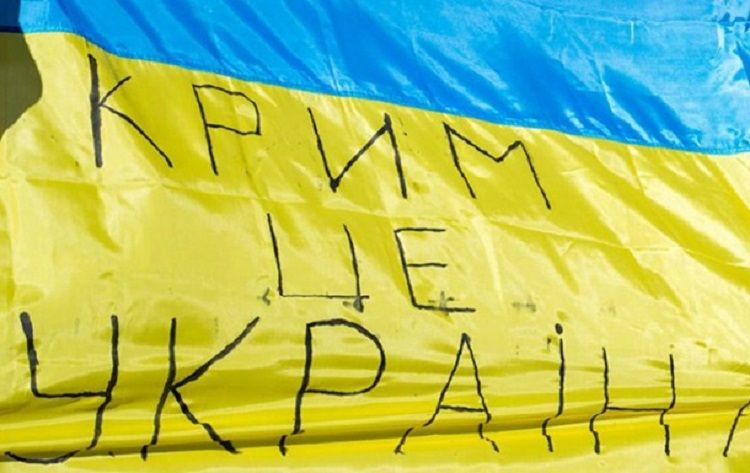 A Ukrainian flag with an inscription saying "Crimea is Ukraine" / Korrespondent.net
"We don't accept Russia's invasion and occupation of Crimea and its claimed annexation, but if we can make progress on the other one – on Donbas – we should do it," Volker told Politico in an interview.
"I have brought up Crimea. I have brought up Crimea, and the Russians say, 'We're not going to talk about Crimea.' It's just important to put down the marker that we disagree on this," he said.
Read alsoU.S. envoy tells of most probable scenario of Donbas developmentsAs Politico correspondent asked whether this means that "our grandkids will be looking at a map of Crimean Peninsula that includes it in Russia?", Volker said:
"No, it's kind of like when I was growing up and you had the Baltic states with an asterisk saying the United States does not recognize the forcible incorporation of Estonia, Latvia and Lithuania into the territory of the U.S.S.R. I think it's going to be maps like that."
Read alsoVolker on recent meeting with Surkov on peacekeeping in Donbas: A "step back"UNIAN memo. Russia annexed Ukraine's Crimea in March 2014 after its troops had occupied the peninsula.
An illegal referendum was held for Crimeans to decide on accession to Russia. De-facto Crimean authorities reported that allegedly 96.77% of the Crimean population had voted for joining Russia.
On March 18, 2014, the so-called agreement on the accession of Crimea and the city of Sevastopol to Russia was signed in the Kremlin.
The West did not recognize the annexation in response to which sanctions against Russia were introduced.
Ukraine's parliament voted to designate February 20, 2014, as the official date when the temporary occupation of Crimea began.