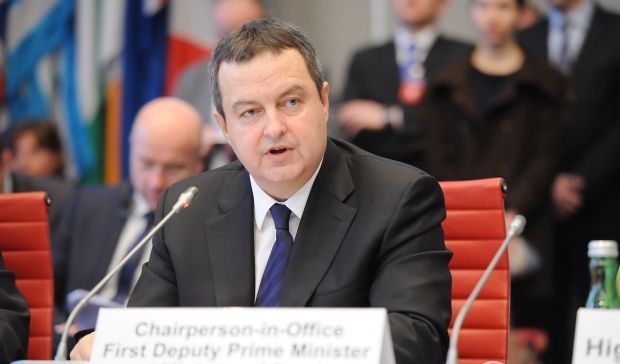 Serbian Foreign Minister Ivica Dacic / Photo from osce.org
Commenting on the situation regarding Ukraine's ambassador, who recently said he was waiting for 14 months to be received by Dacic, the minister said foreign ambassadors in Serbia are "going too far in using our hospitality," B92 said. 
"I ordered an overview of which foreign ministers around the world have received our ambassadors. Out of 70 embassies that we have, 26 (ambassadors) have never been received by (the host country's) minister, 18 have been received only once," Dacic said. 
Read alsoSerbian ambassador to Ukraine summoned for consultations – mediaHe stressed that he was receiving foreign ambassadors "all the time," but that Ukraine's, and any other ambassador either from the West or from the East, must not engage in lecturing Serbia. 
"Rade Bulatovic, who is (Serbia's) ambassador in Kyiv, never went ahead and talked about their foreign policy. Let them do their job in line with the Vienna Convention," the minister said. 
Dacic also remarked that he was not scared by much more powerful opponents and enemies that the Ukrainian ambassador could be. 
Serbia should develop good relations with Ukraine, Dacic explained, adding that in two weeks' time he would speak with that country's foreign minister during an OSCE meeting in Vienna, Austria.