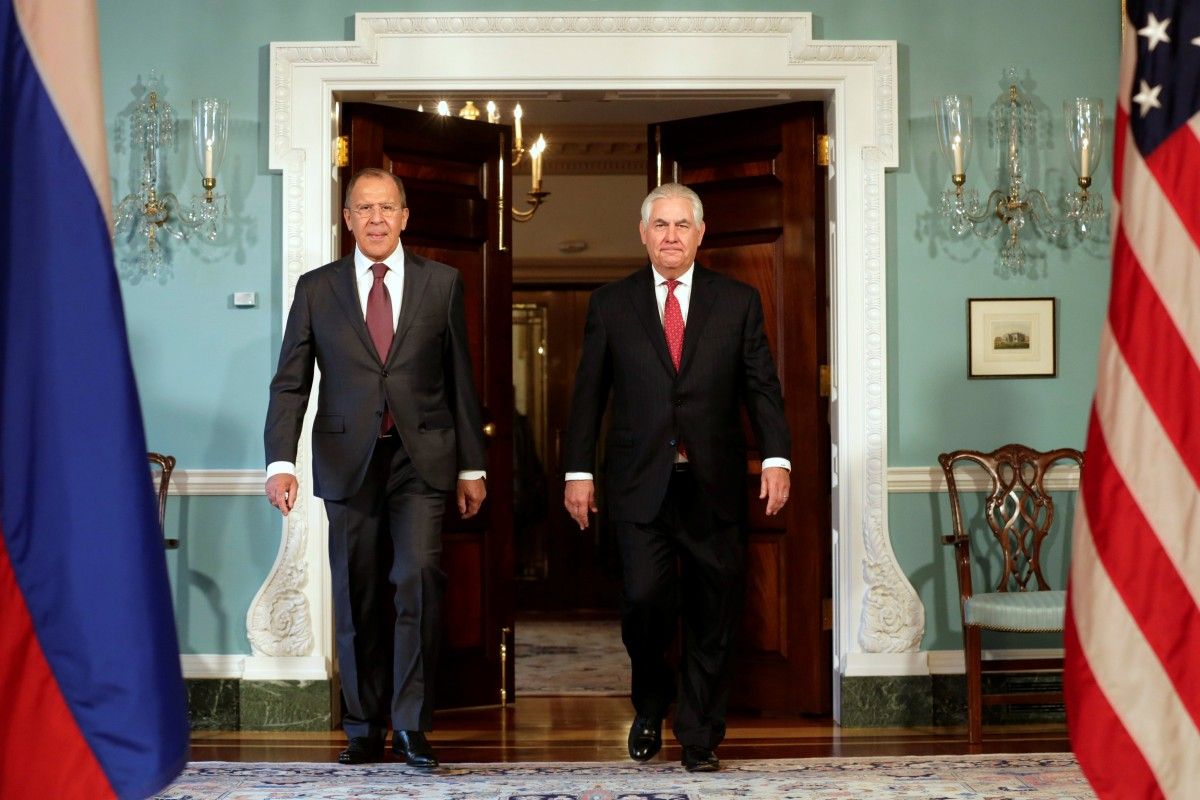 REUTERS
The official on December 1 said the meeting is set to take place on the sidelines of an Organization for Security and Cooperation in Europe (OSCE) meeting in the Austrian capital, most likely on December 7, RFE/RL wrote.
"There is a meeting that's been scheduled with Foreign Minister Lavrov," said the official, speaking on condition of anonymity.
"We have a fairly robust set of discussions underway with the Russians on a lot of global issues – [North Korea], Ukraine, and certainly Syria," the official said when asked if Tillerson would address the six-year civil war in Syria during his upcoming European trip.
Tillerson is scheduled to travel to Brussels, Vienna, and Paris on December 4-8 for NATO, European Union, and OSCE meetings.
The State Department official said Ukraine "will very much be on the agenda" during the OSCE talks.
"The OSCE plays a role in Ukraine, particularly with the Special Monitoring Mission," the official said.
"The secretary really has a heart for…the safety and security of the Ukrainian people in the east in the occupied territories who continue to be the target of military operations with the encouragement and participation of forces from the Russian Federation."
The official added that the United States continues to "pursue negotiations with Russian counterparts," citing the meetings of U.S. special envoy Kurt Volker and Kremlin aide Vladislav Surkov.
Volker was named earlier this year to lead efforts to end the conflict in eastern Ukraine.
Russia-backed separatists control parts of the Luhansk and Donetsk regions of Ukraine, including the border between those areas and Russia, which Kyiv says is used to ship weapons and military personnel in from Russia.
Read alsoTillerson: U.S. committed to success of independent and whole UkraineFighting between government forces and Russia-backed separatists has killed more than 10,000 people in Ukraine's east since April 2014.
The official said whatever settlement is eventually decided upon for Ukraine, it must fit into the framework of the so-called Minsk agreements.
Several cease-fire deals announced as part of the Minsk accords – September 2014 and February 2015 pacts aimed at resolving the conflict – have failed to hold.
"It needs to be an outcome that would have a UN force encompassing the contested area and not just ratifying the gains that the Russians have made on the ground," the official said.
Tillerson's trip comes after U.S. media reported that President Donald Trump was preparing to fire the secretary and replace him with Mike Pompeo, the current head of the Central Intelligence Agency.
However, Trump in a Twitter posting on December 1 wrote that the reports are "fake news."
Trump said Tillerson "is not leaving and while we disagree on certain subjects, (I call the final shots) we work well together."
Tillerson told reporters in Washington during an appearance with Libyan Prime Minister Fayez al-Sarraj that the reports were "laughable."