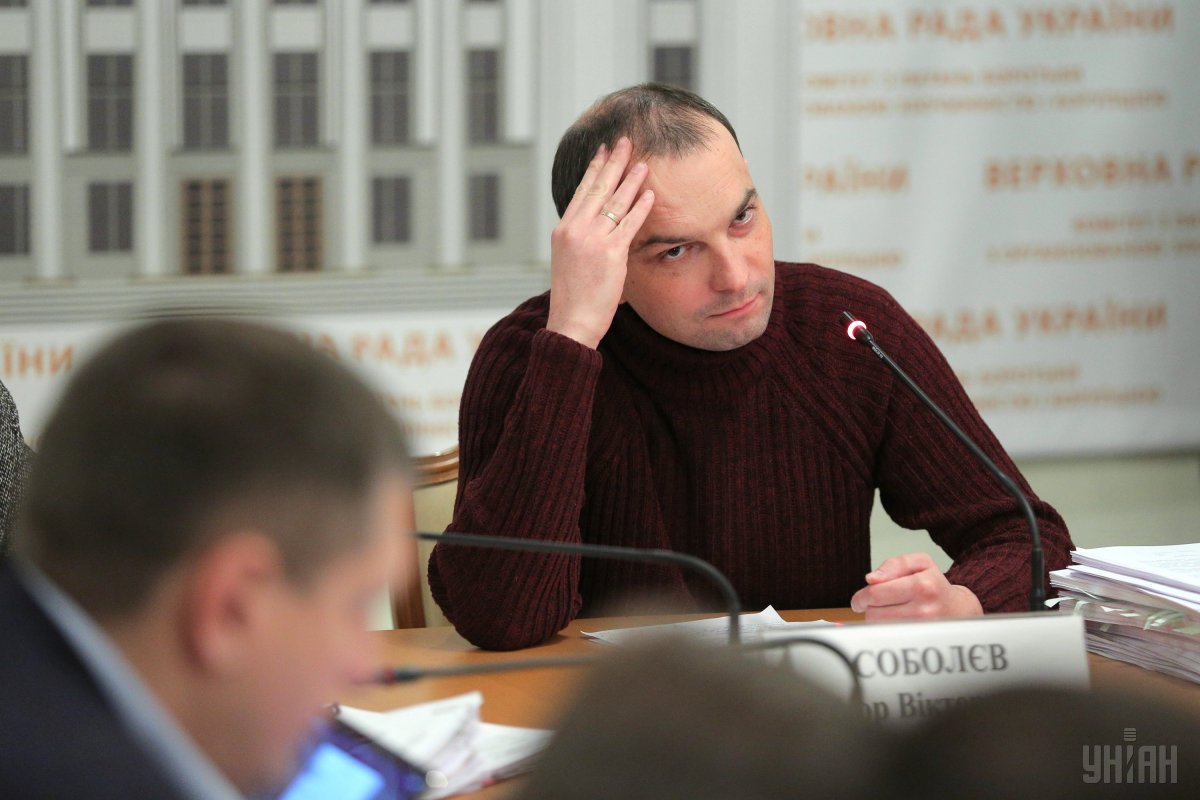 Photo from UNIAN
Of 378 MPs registered in the session hall, 256 people's deputies have supported the motion, while none of Samopomich and Batkivshchyna members voted.
The draft resolution was authored by a number of deputies, Committee members from the Bloc of Petro Poroshenko, Popular Front, Opposition Bloc, Radical Party and Vidrodzhennya group.
As noted in the explanatory note to the draft resolution, during the seventh session of the Verkhovna Rada, the Committee failed to hold "more than three meetings in a row", in particular on November, 3, 8, 15 and 22, because of violation by Mr Sobolev, presiding over the meetings, of the Rada regulations and the law of Ukraine on Rada committees."
Read alsoPoroshenko's office: Sobolev to be fired as Rada anti-graft committee's head"There are other numerous violations by Sobolev of his duties of chairman of the Committee, which he is entitled to perform in accordance with the law on Rada committees," the motion's authors claim.
The Committee on Prevention and Combating Corruption at its meeting December 6 recognized Sobolev's performance unsatisfactory and recommended to initiate a procedure for his dismissal from this office before the parliament.
It is noted that the move is aimed at the restoration of the satisfactory performance of the Committee in a lawful, transparent and socially responsible manner.
At the same time, Sobolev retains his position of a Committee member.
Before the vote on the draft resolution, speaking from the Rada rostrum, Sobolev declared that the actual reason for the initiative to dismiss him was that anti-corruption laws have begun to work in Ukraine.
"We became the first ones to implement them," he said, noting that people's deputies must fill in electronic declarations of assets as well.
Read alsoUkraine's parliament withdraws bill on control of anti-graft agencies – MPIn addition, the parliamentarian noted that the legislation on the National Anti-corruption Bureau began to work.
"More than one deputy have become targets of investigations, and these investigations are continuing – including on illegal enrichment and other corruption charges," he said. "Our legislation leads to the fact that the state leadership - the president of Ukraine and leaders of key political forces - no longer feel inviolable, no longer think they are above the law. And this is the main reason for my dismissal," Sobolev said.
Read alsoOperation "Embarrassment"As for the violations he is accused of, Sobolev noted that all the Committee meetings had been open, their transcripts were published, and everyone had free access to their content.