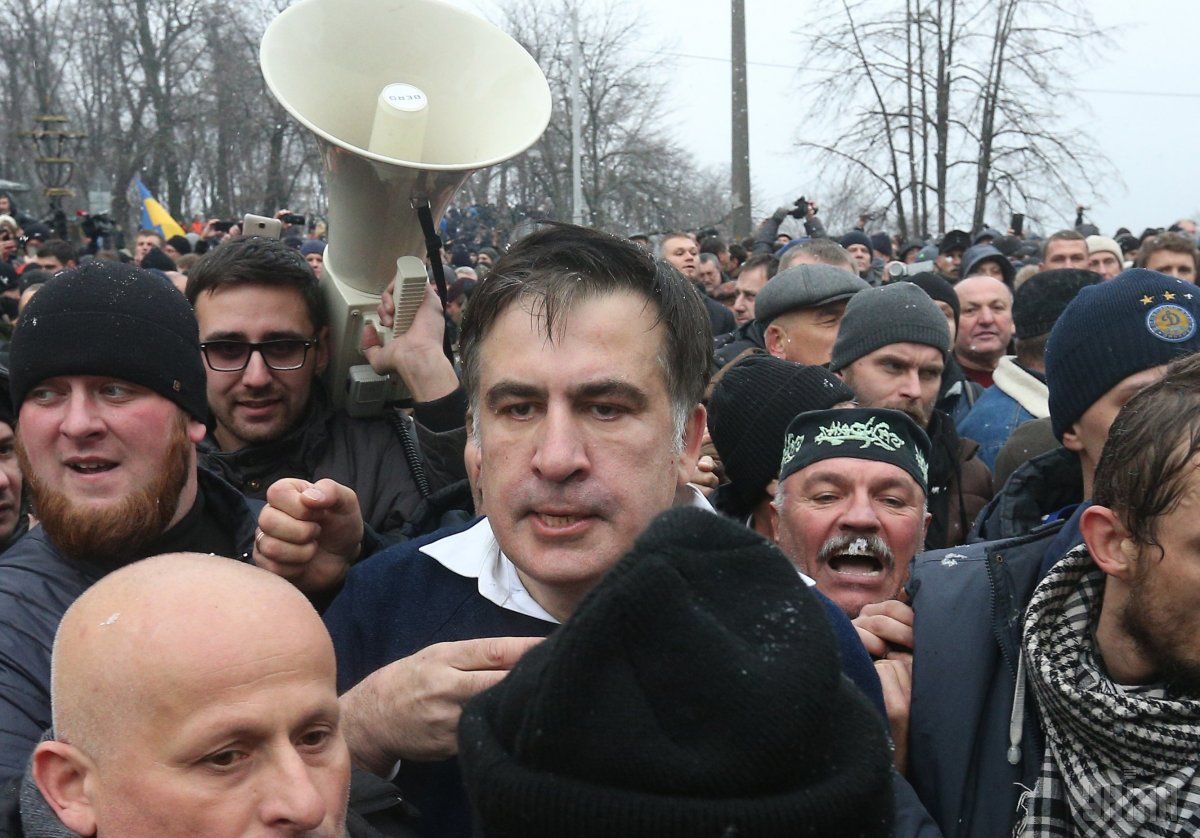 Photo from UNIAN
"They detained Mikheil, now taking him to the Security Service office on Askoldova!!!" Saakashvili's ally David Sakvarelidze wrote on Facebook.
Press secretary of the "Movement of New Forces" Mariana Pochtar said in a comment to Ukrainska Pravda that law enforcers were raiding the tent camp set up by protesters supporting Saakashvili. However, the National Police reported that the law enforcers had not entered the area where the tents had been set up. The police press service stressed that the politician had been detained in another district of Kyiv.
Zoryan Shkiryak, an advisor to the Interior Minister, has confirmed on Facebook Saakashvili's detention.
The report on the politician's detention was later posted on Mikheil Saakashvili's Facebook page.
Read alsoManhunt announced: Saakashvili wanted under three Criminal Code articlesProsecutor General of Ukraine Yuriy Lutsenko wrote on Facebook that Mr Saakashvili had been placed in a pre-trial detention center after law enforcers discovered his whereabouts.
"As they promised, the security forces did their best to avoid extreme force and bloodshed," Lutsenko added.
As UNIAN reported earlier, Ukrainian Prosecutor General Yuriy Lutsenko's press secretary Larysa Sargan on December 6 announced that leader of the Movement of New Forces Party, former governor of Odesa region and ex-president of Georgia Mikheil Saakashvili was suspected of committing a crime under Part 1 of Article 15, Part 2 of Article 28, and Part 2 of Article 256 of the Criminal Code of Ukraine. He was put on a wanted list.
Earlier, on December 5, the SBU and prosecutors raided an apartment where Saakashvili resides on Kostiolna Street. Later, Saakashvili was detained and put him in a convoy vehicle of the SBU, but a crowd of the politician's supporters blocked the car from driving him away. Clashes between law enforcers and activists followed. Then, someone from the crowd smashed the van's windows, damaged the back door, and helped Saakashvili get out of the vehicle. Law enforcers limited themselves to using tear gas during the clashes.
Read alsoProsecutors aware of who else plans to destabilize Ukraine for Moscow cash – LutsenkoAfter the "escape," Saakashvili led his supporters to rally outside the Verkhovna Rada where Prosecutor General Yuriy Lutsenko was presenting evidence of the politician's wrongdoings. 
Yuriy Lutsenko said that Saakashvili had organized protests in order to seize state power in Ukraine and help members of the criminal group associated with the former Ukrainian President, Viktor Yanukovych, and a young tycoon from Yanukovych team, Serhiy Kurchenko, in hindering the process of their criminal prosecution.
In turn, Saakashvili denied Lutsenko's accusations of assisting participants in criminal organizations.