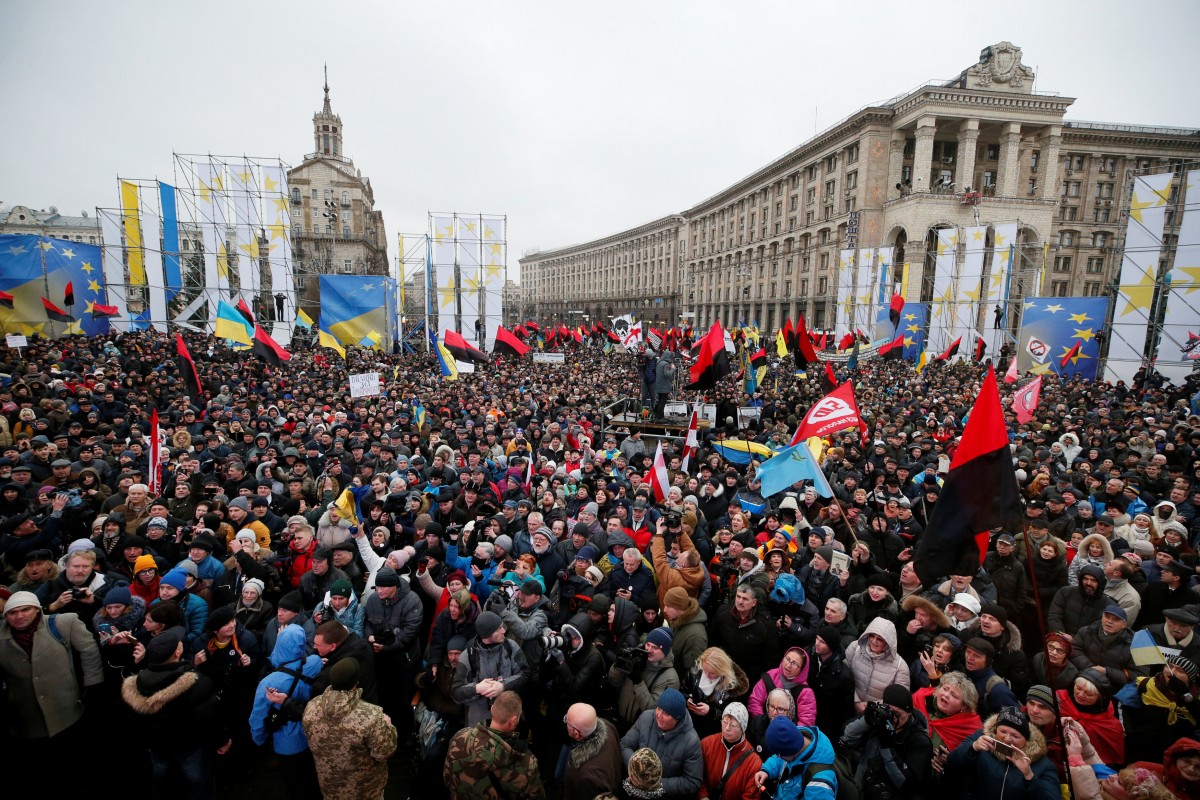 REUTERS
They demanded the release of earlier detained Saakashvili, who is accused of an attempt to seize power in Ukraine, and compared the incumbent Prosecutor General, Yuriy Lutsenko, with one of his predecessors during Viktor Yanukovych's presidency, Viktor Pshonka.
What is more, protesters called on Lutsenko to resign.
Read alsoOver 2,000 Saakashvili supporters rallying in Kyiv, demanding his release (Photos, video)Another leader of the Movement of New Forces Party and former Deputy Prosecutor General David Sakvarelidze urged participants in the rally to come and support Saakashvili during a court hearing scheduled for Monday, December 11. Most likely, the case will be considered by Kyiv's Pechersky district court, though the exact time of the hearings is not known yet.
Sakvarelidze said, "We reserve the right to radical action" if the demand of people for Saakashvili's release has not been heard.
Prior to that, the protesters held a meeting on the Maidan Nezalezhnosti, or Independence Square, and then marched to the SBU's detention center at 3a Askoldiv Provulok Lane, where Saakashvili is being remanded in custody.
Organizers of the march announced four demands on the Verkhovna Rada, Ukraine's parliament, which is supposed to consider them from December 19 to December 22.
As an UNIAN correspondent reported, they also called on citizens to gather next Sunday, December 17, for another march in support of the law on impeachment.
Olha Halabala, a spokesperson for the Movement of New Forces Party, said that this year's last parliamentary week would take place between December 19 and 22.
She announced that the participants in the march for impeachment demanded that the parliament adopt four demands: "The first demand is the law on impeachment, the second one is the law on an anti-corruption court. The third one is the adoption of the election law in the second reading, as we forced the first reading on October 19. And the fourth demand is the resignation of Prosecutor General Yuriy Lutsenko, who, in collusion with [Ukrainian President Petro] Poroshenko and others, actually wanted to stage a corrupt coup last week. Thus Yuriy Lutsenko, who is heading that process, must resign," Halabala said.
Police reported that about 2,500 people had taken part in the march downtown Kyiv, while about 1,000 police officers and National Guard members were engaged in maintaining order during the event.
However, Member of Parliament Borys Bereza estimates that there were about 10,000 participants in the rally.
Protesters demanded that a law on impeachment be passed. They also insisted on the release of Saakashvili and called on Poroshenko and Lutsenko to resign.