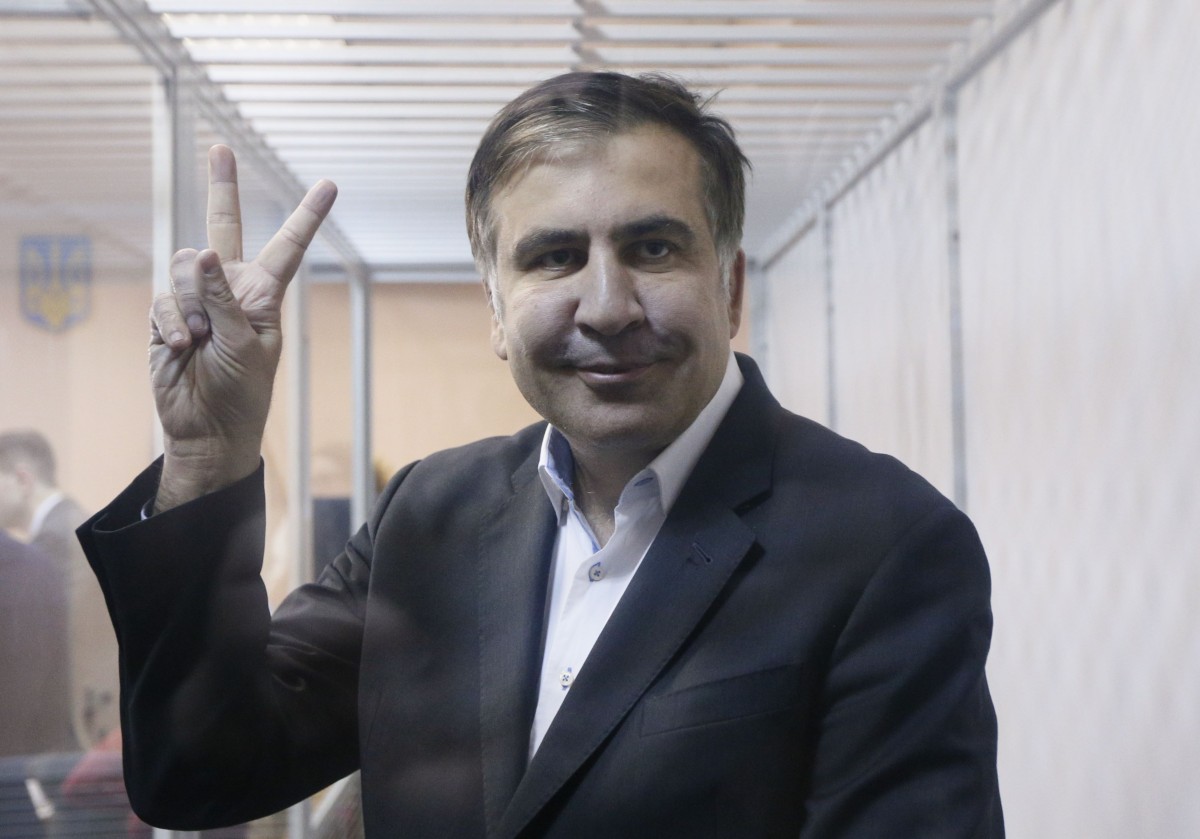 REUTERS
The warning from Yuriy Lutsenko during a briefing with foreign media ups the ante in Mr Saakashvili's months-long standoff with Ukrainian authorities amid a bitter-falling out with the country's president, Petro Poroshenko, The Financial Times reported.
Discussing various scenarios over the fate of Mr Saakashvili — who denies corruption charges in Ukraine and his native Georgia as trumped up by rivals — Mr Lutsenko said:
Read alsoUkraine MFA says has no contacts with Georgia on Saakashvili's extradition"The most likely is extradition … At this moment, from a legal standpoint, this is the most likely."
Mr Lutsenko said Ukraine would not be able to legally turn down extradition requests from Georgia after Mr Saakashvili exhausted all legal attempts to prolong his stay in Ukraine. The process could take weeks or months, the Ukrainian chief prosecutor said.
Mr Saakashvili lost his Georgian passport after accepting Ukrainian citizenship in 2015 to serve as regional governor upon request of Mr Poroshenko, a friend from Kyiv university days. But their relations collapsed by late 2016, with Mr Saakashvili resigning and accusing the Ukrainian president of stalling reforms and colluding with other oligarchs in corruption.
After having his Ukrainian citizenship stripped this summer while abroad, Mr Saakashvili – bundled by supporters – illegally barged back into Ukraine last September at a border crossing with neighbouring Poland. He has led a protest movement against Mr Poroshenko while simultaneously trying to prolong legal grounds for staying in Ukraine with appeals to regain citizenship, obtain temporary residence or even political asylum.
Read alsoSaakashvili says no plans to run for president in UkraineTension mounted early last week as crowds from the Saakashvili-led protest forcefully pulled him out of a police van after a dramatic rooftop arrest. He was detained again last Friday evening on charges of supporting a Moscow-financed plot to overthrow Ukraine's leadership, but a court this past Monday released him, turning down prosecutors' request for house arrest.
Mr Saakashvili has shown no signs of fleeing Ukraine. He continued this week to mock charges against him as politically motivated and pledged to keep leading a protest movement aimed at ushering in a new generation of leadership.
If he is extradited to Georgia first, Tbilisi would be obliged to hand Mr Saakashvili back to Ukraine to face charges in court, upon completing its trials.