Ukrainian lawmakers vote to clear the way for new bill on anti-corruption court
The Verkhovna Rada, Ukraine's parliament, voted on Thursday to withdraw a draft law on the creation of an anti-corruption court, a necessary step for the submission of a new law that is more in line with Venice Commission recommendations and demands from backers.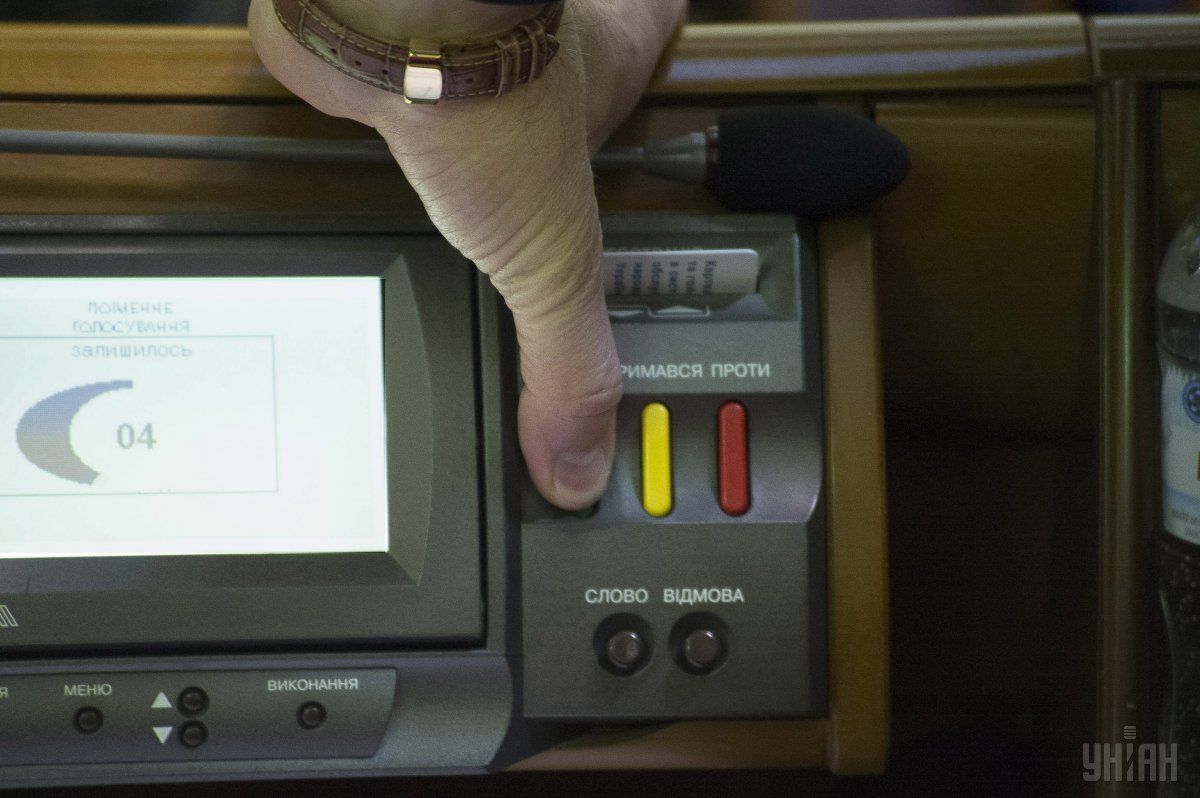 Some 235 lawmakers voted for the decision / Photo from UNIAN
The decision to withdraw bill No. 6011 on anti-corruption courts was backed by 235 lawmakers with the 226 required to pass, an UNIAN correspondent said.
Read alsoIMF reminds Ukraine about anti-corruption commitmentsParliament Speaker Andiry Parubiy said that President Petro Poroshenko had asked parliamentarians to vote for the withdrawal of the old bill to give him an opportunity to submit his draft on this issue in the near future.
UNIAN memo. The creation of the high anti-corruption court as part of judicial reform is stipulated by the law on the judicial system and the status of judges adopted by the Verkhovna Rada on June 2, 2016. On February 1, 2017, bill No. 6011 on anti-corruption courts drafted by MP Yehor Sobolev of the Samopomich parliamentary faction, nonaligned Oksana Syroyid, and Svitlana Zalishchuk, Serhiy Leshchenko, Mustafa Nayem (all from the Petro Poroshenko Bloc faction), and Ivan Krulko of the Batkivshchyna faction was registered in the Verkhovna Rada. This bill defines the peculiarities of the organization of anti-corruption courts. It also contains special requirements for judges of anti-corruption courts, and defines the requirements for the organization of anti-corruption courts, for candidates for positions of judges of anti-corruption courts, for the selection and procedure of these judges' appointment. According to Sobolev, the high anti-corruption court is designed to consider cases investigated by the National Anti-corruption Bureau of Ukraine (NABU) and the Specialized Anti-Corruption Prosecutor's Office. The High Council of Justice on March 9, 2017, issued an advisory opinion, stating that bill No. 6011 on anti-corruption courts contradicts the Constitution and is not consistent with a number of legislative acts.
The Venice Commission says the only way to combat high-level corruption in Ukraine is the quick creation of a high specialized anti-corruption court, as stipulated in the Law on the Judiciary and Status of Judges, whose judges will be elected in a transparent procedure with the participation of the international community.
The creation of the anti-corruption court is one of the conditions for further cooperation between Ukraine and its key lender, the International Monetary Fund (IMF).
On December 8, the IMF called on the Verkhovna Rada to pass a draft law on the anti-corruption court as a priority piece of legislation.
If you see a spelling error on our site, select it and press Ctrl+Enter