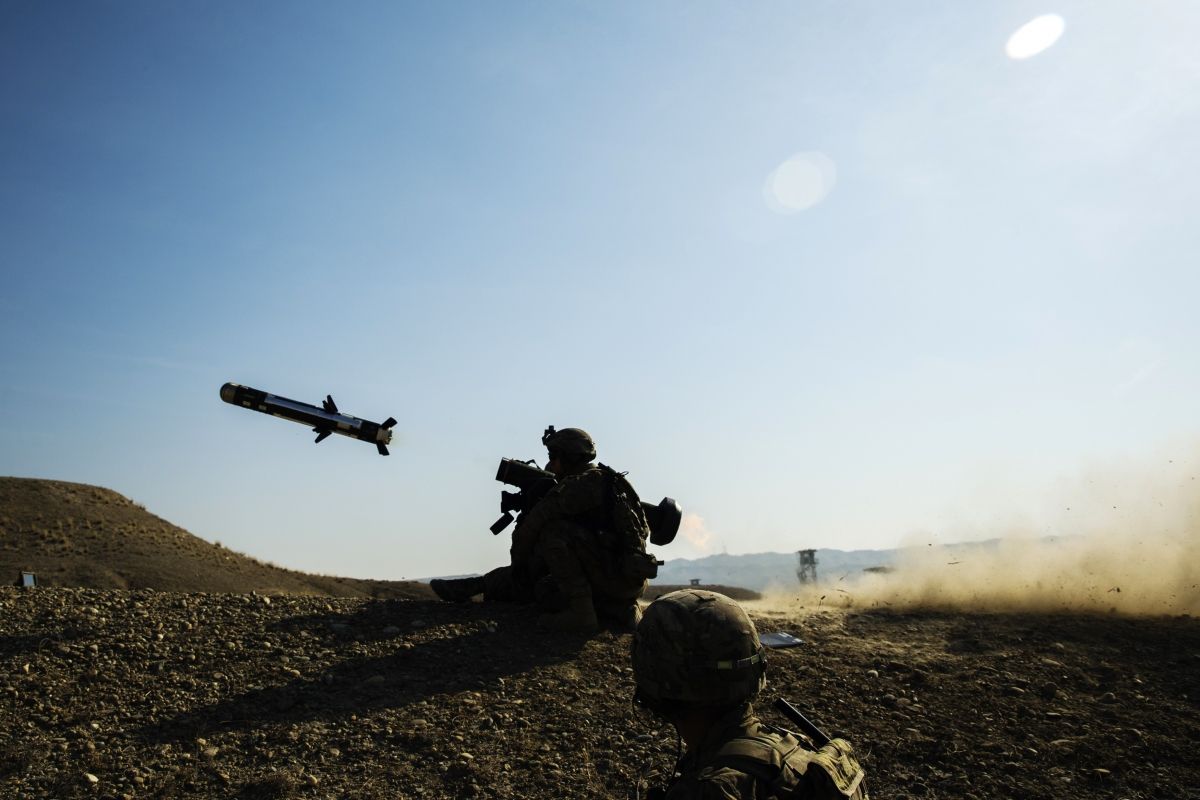 REUTERS
If the president formally signs off, the plan will be presented to Congress for a 30 day review period where it would need to be approved before the State Department can implement it, ABC News reported.
The sale of anti-tank missiles, which could possibly include the U.S. made Javelin system, would likely provoke a strong reaction from Russia that could threaten to derail Trump's calls for better relations with Moscow.
The total defense package of $47 million includes the sale of 210 anti-tank missiles and 35 launchers. Additional supplies will need to be purchased, according to a senior State Department official.
"We have nothing to announce at this time," National Security Council spokesperson Marc Raimondi told ABC News.
Read alsoWhite House on approval of U.S. arms export licenses to Ukraine: "Nothing new" – mediaIn a statement, State Department spokesperson Heather Nauert told ABC News: "The United States has decided to provide Ukraine enhanced defensive capabilities as part of our effort to help Ukraine build its long-term defense capacity, to defend its sovereignty and territorial integrity, and to deter further aggression. U.S. assistance is entirely defensive in nature, and as we have always said, Ukraine is a sovereign country and has a right to defend itself. The United States remains committed to the Minsk agreements as the way forward in eastern Ukraine. We have no further comment, at this time."
Earlier this week, the Kremlin condemned Trump's approval to allow the commercial sale of small arms and light weapons to Ukraine.
Kremlin spokesperson Dmitry Peskov said that sale "will once again motivate the hotheads" in the Ukrainian government and "unleash bloodshed again." The head of the Russian parliament's defense committee, Vladimir Shamanov, also condemned it as a "sophisticated and irresponsible step."
A State Department source stressed that the move to supply even more powerful anti-tank missile is purely for defensive purposes.
ABC News first reported that the inter-agency memo has been sitting on the president's desk for weeks.
If Trump announces his approval, the memo will likely make its way to Capitol Hill. Congress has 30 days to approve the measure. There is broad support by Senate Republicans.
Read alsoJohn McCain urges Trump to raise lethal weapons stakes after report of sale to Ukraine – mediaAfter the announcement of the sale of smaller lethal weapons, Sen. John McCain, R-Ariz., said that Trump should take the next step and approve approval the sale of anti-tank missiles.
"I urge the President to authorize additional sales of defensive lethal weapons, including anti-tank munitions, and to fully utilize security assistance funds provided by the Congress to enable Ukraine to defend its sovereignty and territorial integrity," McCain said in a statement.
As violence in the eastern region accelerates between the Ukrainians and separatists supported by Russia, the Ukrainian government has made it clear that they are in dire need of offensive hardware.
The death toll stands at over 10,000 people since fighting began in 2014, according to a December report by the Office of the United Nations High Commissioner for Human Rights.
The war has been at a standstill along the eastern front since the Russia seized Crimea in 2014.
"What we are awaiting and have called for is the provision of lethal defense weapons that are more advanced – a larger package that is under consideration right now, including anti-tank and anti-aircraft missiles," a Ukrainian official told ABC News earlier this week. "We are expecting this decision and would welcome it."
President Barack Obama considered selling and financing anti-tank missiles to Ukraine in theory but never approved the measure, despite being pushed by his National Security Council team, according to a former NSC official.
The U.S. military's European Command is moving ahead with plan for the weapons to be delivered, according to a senior State Department source.
Trump promised a reset with Russia, but there has been concern that arming the Ukrainians might hamper that move. Nonetheless, a source close to the President said he has been supportive of the decision despite concerns from allies about how it will provoke Russia.
The president's likely approval of the arms deal is a major shift from the Republican party platform on sending lethal weapons to Ukraine, which was amended when Trump was the party's nominee for president, from supporting "lethal defensive arms" to Ukraine to the more vague "appropriate assistance" – language that ran counter to traditional Republican foreign policy.