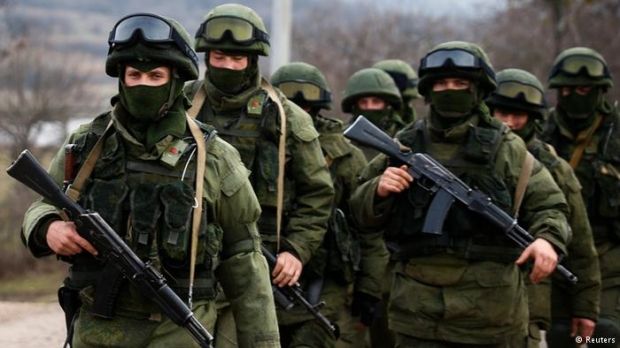 REUTERS
Its goal was to influence key decision-makers and the wider public to pave the way for the Russian military action that was launched Feb. 27 with the seizure of the Crimean parliament building by armed men, according to a classified GRU report obtained by The Washington Post. Crimea was ultimately annexed by Russia.
The report provides a unique window into one GRU team's effort across six days in 2014. Starting the day after Yanukovych's fall, the military spies created a slew of fake personas on the social media platforms of Facebook and its Russian equivalent VKontakte, or VK for short. The personas were meant to represent ordinary people from across Ukraine who were disillusioned with opposition protests at Kiev's central square, called the Maidan.
Read alsoMontenegro seeks arrest of Russian spy over coup plot - The TimesOn Saturday evening, Feb. 22, 2014, a man calling himself Ivan Galitsin posted a comment on an article in a British newspaper. The story was about the Ukraine opposition leader and former prime minister, Yulia Tymoshenko, who had been released from prison that day. "There was a coup in Ukraine," wrote Galitsin in English. "I live in Kiev. I was on the Maidan, but peaceful protest ended two months ago, when we were displaced by armed nationalists. It's a nightmare. Fascists came to us again 70 years after the Second World War. I do not want this future for Ukraine."
Read alsoFacebook to let users see if they followed Russian 'troll farm' pages – mediaGalitsin was the creation of a GRU psychological operations officer, according to the documents. The profile was created on Feb. 22, and he used as his profile photo a picture of Konstantin Yaroshenko, a convicted Russian drug smuggler serving time in a U.S. prison. Galitsin's comments also appeared in other English-language outlets.
Overall, the GRU team targeted more than 30 Ukrainian groups and social media platforms, as well as 25 "leading, English-language" publications, according to the report.
Read alsoRussian trolls pushed pro-Brexit spin on day of referendum – CNNPretending to be ordinary Ukrainians, GRU operatives also tapped out comments aimed at riling up pro-Russian citizens against the protesters, whom they called "zapadentsy" — or "westerners." One comment read: "Brigades of zapadentsy are now on their way to rob and kill us. It is very clear that these people hold nothing sacred.'' Another read: "The rise of the opposition here will be catastrophic. These people are completely different. They have a totally different vision of Ukraine's future." Demonstrators on the Maidan were called "Nazis" and "fascists."
The military spies posted physical threats on social media against Yanukovych allies in southeastern Ukraine to bolster Moscow's claim that radical Ukrainians were inciting violence against Russians in the region. In one case, a fake persona named Vova Kravets issued threats on Facebook against 14 politicians.
Read alsoU.S. prosecutors consider charging Russian officials in DNC hacking case – WSJOn Feb. 27, when the Crimean parliament building was seized, the GRU created four groups on Facebook and VK to encourage Crimeans to support secession from Ukraine. "Using our accounts on Facebook, we circulated commentaries informing the population of the Crimean peninsula of a threat from Nazi organizations," the GRU reported.
The GRU created a Facebook primer for its psyops personnel, although the instructions were fairly basic. One tip said that operatives need not use their own photo. "You can search for a photo on Facebook itself. Find someone who has very few friends and is not an active user."
The GRU also used paid ads on Facebook to increase the groups' popularity, according to the report. Together, the groups received nearly 200,000 views on Facebook on Feb. 27 alone, the report said. The content was republished on other groups on Facebook, on VK and on LiveJournal, another Russian social networking site.
Read alsoSobchak says civil war to start in Russia if Crimea returned to UkraineIt is difficult to gauge the true impact of the GRU's information operation in Ukraine. But the military spies, no doubt to put their efforts in the best possible light for their superiors, gave this assessment: "[T]he overwhelming majority of social media users agreed with the posted arguments and supported the authors' positions."