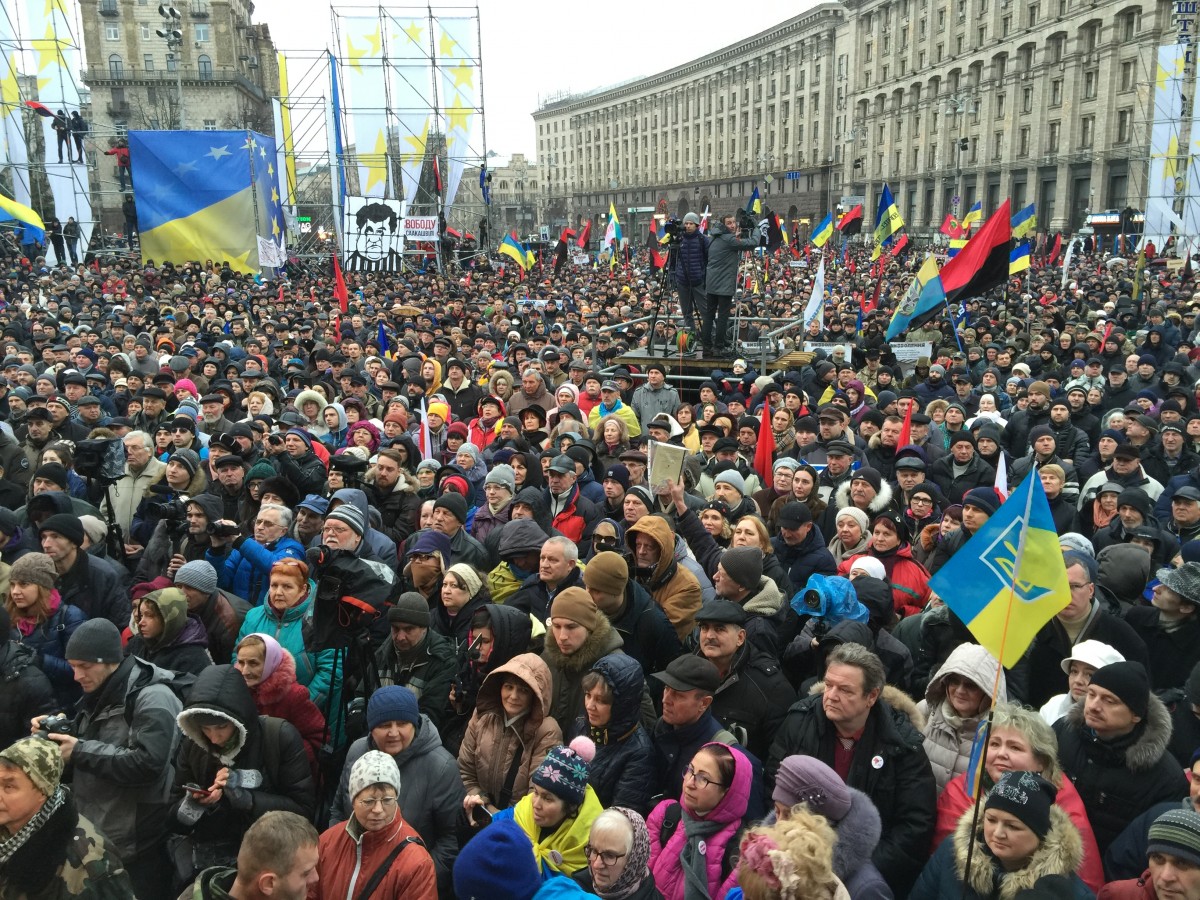 Photo from UNIAN
"It's hard to make predictions if someone's decision taken by their brain's right hemisphere could just blow up the logic. So, in the best case, we can only speculate about possible options for next year's developments," the expert said in a commentary to Novoe Vremya.
According to Bekeshkina, the first, and most likely, option is stabilization.
"In the first two years after the Revolution of Dignity, the country made a real breakthrough, having introduced more changes than in all previous years, despite the war, the catastrophic drop in the economy and living standards... However, there is one essential thing: the system remained the same. An economic system of oligarchs and clans and a corresponding political system based on corruption. With the loss of the main beneficiaries after the Maidan, it came back to life. New people came to manage financial flows, reviving the old schemes and creating new ones," the article says.
The stabilization scenario means a policy of peaceful coexistence with corruption of "fellow" corrupt officials, as well as "alien" ones who are loyal.
"Fighting corruption will be replaced by imitation, demonstrative public arrests will be followed by trials that will last for years (by the way, how's the investigation going of the so-called "diamond prosecutors?"), anti-corruption structures will be staffed by obedient operatives. Economic growth is possible, but it will remain insignificant, since the system that does not allow fair competition, snatching corruption-related "fees" from businesses flowing to the state apparatus and politics, and discourages foreign investors is not capable of making a breakthrough," Bekeshkina said.
Read alsoExperts name Top 15 "liars" among Ukrainian politicians"Is it possible to consistently implement this model? Probably not. On the one hand, there is a bold and powerful civil society. On the other hand, there are Western partners, who are losing patience and frankly linking the prospects for financial, political and military support with success in the fight against corruption. And most importantly, there are people, disillusioned and angry, greatly impoverished after a threefold drop in the hryvnia and hearing reports of multimillion-dollar corruption deals almost daily. So the consistent implementation of the option 'let everything be as it is' is hardly possible," she summed up.
The second option, according to the sociologist, is quite possible. She called it "retreat and violence (a very bad one)."
The prospect of upcoming elections and the lack of guarantees of retaining power can lead to a temptation to solve some issues by force. And making peace with corruption logically means war with anti-corruption forces. The end of the outgoing year was marked by the system's real counterattack against anti-corruption bodies. Also, it is obvious that a scandalous law will still be active next year that requires filling out electronic declarations of assets by members of anti-corruption organizations and those affiliated with them.
"It's unlikely that there will be repression, but there are other methods: stirring up people's envy, summoning them for round-the-clock interrogations, discrediting them in the media, etc. Or shutting down the mouths of most active ones, put pressure on media owners, assigning a crony a NABU auditor, or even better – taking full control of and replacing the disobedient. How realistic is this force option of democracy curtailment? As a consistent policy, it's not an option at all. Too strong the dependence on Western partners... And without western support, Ukraine will have to face Russia alone. But from time to time, when the right hemisphere of our officials' brains will suppress the left one, a situational appeal to the force option is entirely possible," she added.
Read alsoPoll: Most Ukrainians deem fight against corruption unsuccessfulBut there is a third option, which is very desirable, according to the expert. Bekeshkina called it a "progressive-offensive".
"Let's imagine that in the year before the elections, the government (together with all its branches) will decide that the best way to succeed in the polls is to do the most for the country, to implement the required transformations and reforms. And above all, to remove the stone of corruption from the path of development. To this end, NABU's efforts must be greenlighted by adopting legislation necessary for ensuring its success (allowing wiretapping, provocation of bribes, and so on); this total mess, the National Agency for Corruption Prevention (NACP), must be dissolved and then real fighters must be recruited there; while an anti-corruption court must also be created... Yes, much needs to be done what has not been done over the past years. And public organizations should be ultimately involved, to be seen as most reliable comrades-in-arms," Bekeshkina writes.
However, in her opinion, this option is not the most probable one.
"Experience shows that under strong pressure on the part of civil society and Western partners, laws were passed, absolutely unprofitable to the authorities in all its branches. A vivid example is electronic declarations of assets... It will be a miracle if our elites will be guided by common sense rather than greed or at least by a sense of self-preservation, and they will realize that they are nobody, they are nothing without Ukraine. It will be a miracle if the people send to hell unscrupulous populists and start supporting those who offer real programs and plans. It will be a miracle if someone decides that the prospect of becoming part of Ukraine's history as a reformer who turned the country into a modern European power, is much more important than piling up yet another billion," the sociologist summed up.