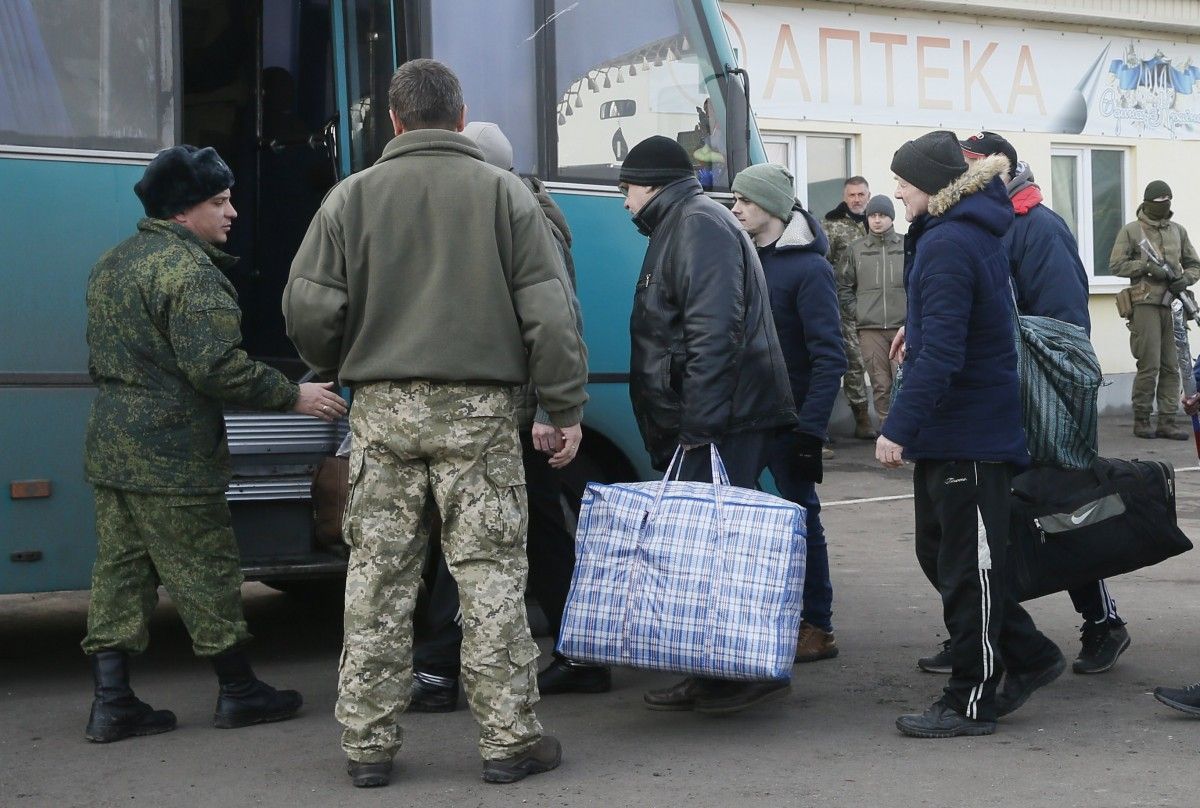 REUTERS
"On December 27, a prisoner swap took place near the town of Mayorsk [close to the Russian-occupied town of Horlivka] in Donetsk region. Seventy-three Ukrainians who were illegally kept in the occupied areas were released from militant prisons," the press service quoted First Deputy Chairperson of Ukraine's Verkhovna Rada Iryna Gerashchenko as saying.
"The Ukrainian side in turn transferred 233 out of the 306 persons on the [swap] list, having pardoned and released them. They committed crimes but their measure of restraint was changed or they were pardoned in keeping with laws. There are no individuals among them who committed homicides or other grave crimes and are not subject to clemency," it said.
Among the freed Ukrainians are fighters of the Kryvbas Battalion Mykola Herasymenko and Oleksandr Lazarenko, who had been held captive since February 2015 after the Debaltseve battle.
Among the released is member of the National Guard of Ukraine Yevhen Chudnetsov, who was sentenced by militants to 30 years in prison in the self-proclaimed "Donetsk People's Republic" and who survived gruesome tortures.
Militants also freed two former defenders of Donetsk airport, also known as 'Cyborgs,' Oleksandr Morozov and Ivan Lyas, who had been held captive longer than others, after the loss of the airport.
Ukrainian servicemen Oleksandr Oliynyk, Oleksiy Kodman, Oleksiy Kyrychenko, Oleksandr Kalin, who were captured after they had been wounded during the severest fighting from the end of 2014 to the beginning of 2016, have also returned home.
Read alsoPrisoner swap in Donbas over: 74 Ukrainians going homeEarlier, Ukrainian media outlets reported about 74 Ukrainians who were freed on December 27.
One of them, a former female member of the Armed Forces of Ukraine who introduced herself as Elena is reported to have decided not to return to Ukraine, according to the news outlet Strana.ua.
The woman, who was detained in August 2016 when she worked for the command unit in the town of Slovyansk, says she has chosen to stay in the territory controlled by the self-proclaimed "Donetsk People's Republic" as her family members reside there.
As UNIAN reported earlier, about 10-15 people released by Ukraine and brought for the swap refused to return to the areas controlled by the militants in Luhansk and Donetsk regions.
Footage by TSN. First hostages released by militants from the self-proclaimed "Luhansk People's Republic"