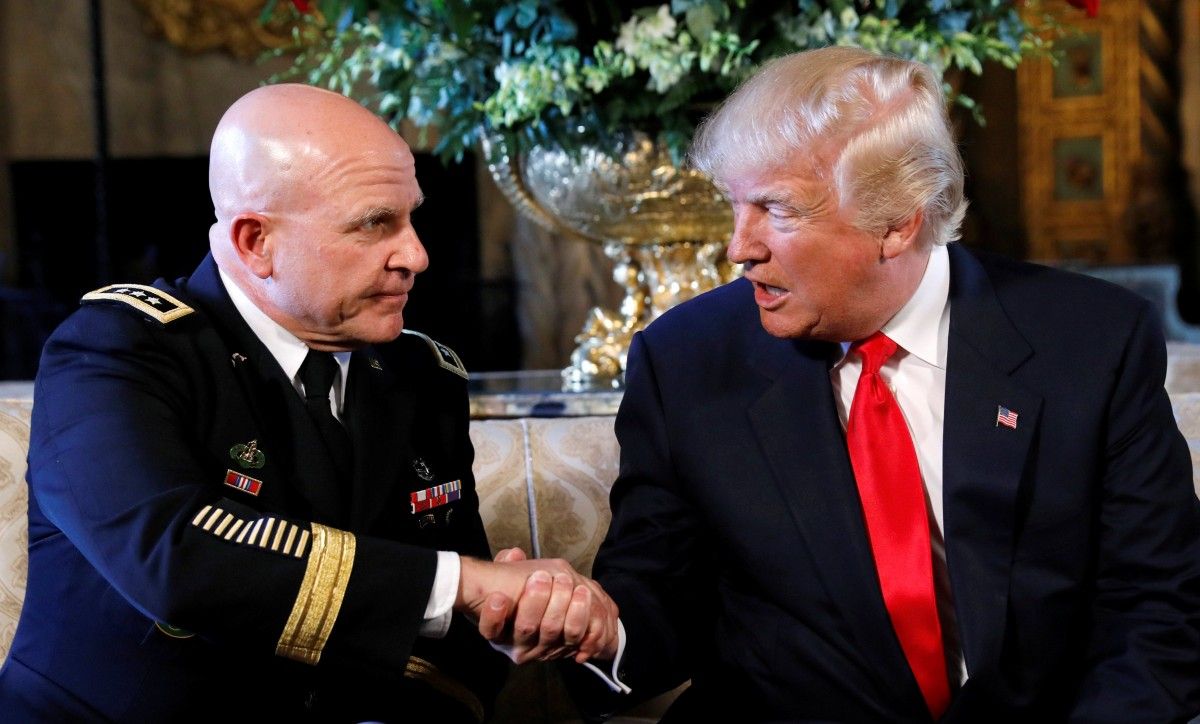 REUTERS
"What we have to do is come up with a way to deal with this very sophisticated strategy [of meddling]," McMaster, U.S. President Donald Trump's national security adviser, told Voice of America (VOA) in an interview conducted at the White House on January 2, RFE/RL reports.
"This new kind of threat that Russia has really perfected...the use of disinformation and propaganda and social-media tools to really polarize societies and pit communities against each other, to weaken their resolve and their commitment," McMaster said.
U.S. intelligence officials concluded last January that Russian President Vladimir Putin ordered an "influence campaign" targeting the 2016 election, aiming to undermine confidence in U.S. democracy, tarnish the reputation of Democrat Hillary Clinton, and help Republican Donald Trump.
"Well, I think Russia's moved from what you might call plausible deniability to implausible deniability."
Officials in Europe have also concluded that Russia attempted to meddle in elections there, including in France, Spain, and the Brexit vote in Britain.
Read alsoTillerson: U.S. has no illusions about today's regime in RussiaMcMaster said that "insidious is the right word" to describe Russia's actions.
"So, one of the most important remedies is to pull the curtain back on it to show this activity, to show what the source of this activity is -- what the purpose of this activity is," he said.
"And so doing this, you're going to undercut a lot of their ability to exert that kind of negative influence on our society or others.
"The Russians were very active in Europe...in the French election recently, in the Spanish referendum in regards to Catalonia [independence]. You see them active in Mexico already. I mean, what they did in Montenegro to try to foment a coup," he said.
"Pulling the curtain back on Russia's destabilizing behavior, I think, is a very important first step, because once everybody sees what they're up to, they lose a lot of their power to foment [trouble] and to pit communities against each other." 
McMaster noted that Russia has denied interfering in the U.S. or other elections, but he labeled it as "implausible deniability."
He said the Russians "are the same people" who denied they shot down Malaysian Airlines Flight 17 and "murdered" 298 people, that "they have soldiers in Crimea or eastern Ukraine," or that they are providing cover for the Syrian regime of President Bashar al-Assad and his alleged use of chemical weapons.
Read alsoRussia destabilizing West through invasions, killings, elex meddling attempts: UK Foreign SecretaryDutch investigators and others say a Malaysia Airlines passenger plane that crashed in a conflict zone in eastern Ukraine in July 2014 was brought down by a Russian-made surface-to-air missile.
The United States and other Western countries have imposed sanctions on Russia for its illegal annexation of Ukraine's Crimea region and for its support of separatists in eastern Ukraine in a war that has killed more than 10,300 people since 2014.
Read alsoFSB Colonel helped U.S. collect evidence of Russia's elex meddling – media"[The denials are] just not credible anymore," he said. "So, what we need to do, I think, with Russia is confront their destabilization behavior. As I mentioned, pull the curtain back on it."