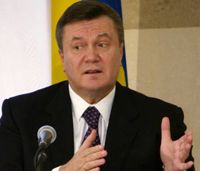 Signing of declaration between Ukraine – EU on modernization of the GTS without participation of Russia will not bring benefit to the bilateral relations of the RF and Ukraine, according to Ukrainska pravda .
Leader of the Party of Regions Victor Yanukovych said this on the air of ICTV channel.
He said that he was present at the meeting with President Victor Yushchenko, "when the President said that we have a brilliant opportunity to sign an agreement with EU on forming of something, it is not clear, but for two".
"I said whose gas will be? Russian. And what you are going to form if there is no third participant? There is a consumer, there a transit but there is no owner of this gas. What is the aim of this agreement? If the aim is to do an unfriendly gesture to the side of Russia, you will reach it", said V. Yanukovych.
"We received a result – a sharp reaction of Russia. Europe stepped back and Ukraine found itself in shit", said V. Yanukovych.