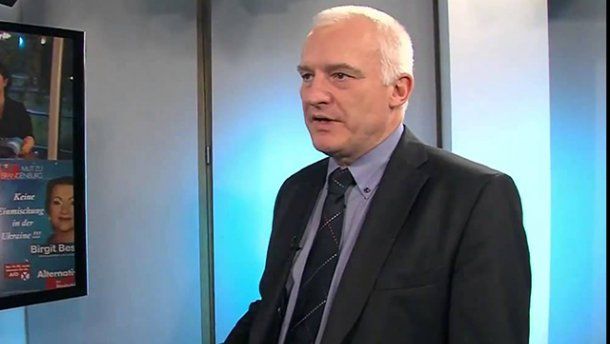 Member of the State Parliament of Berlin Bronson is among the delegates / Screenshot from 24tv.ua
A delegation of German parliamentarians from three regional parliaments are visiting Russian-occupied Crimea in violation of Ukrainian laws.
The delegation, which arrived on February 3, includes members of the far-right political party "Alternative for Germany," according to the Russian news agency RIA Novosti.
Read alsoCrimea black hole for human rights - HRWThe delegation will be staying in Crimea until February 9.
The German politicians claim they are not concerned over a possible travel ban by Ukraine.
"We don't care at all, we expect to visit Crimea more than once in future," member of the State Parliament (Landtag) of North Rhine Westphalia Roger Beckamp told journalists upon arrival at the airport in the Russian-occupied city of Simferopol.
Member of the State Parliament of Berlin (Abgeordnetenhaus) Hugh Bronson said that the German lawmakers hope that "the situation around Ukraine will be settled as times goes by, and normal work with Ukraine will be possible in future."
As UNIAN reported earlier, German politician, member of the Alternative for Germany Party Alexander Gauland called Crimea "indigenously Russian territory."