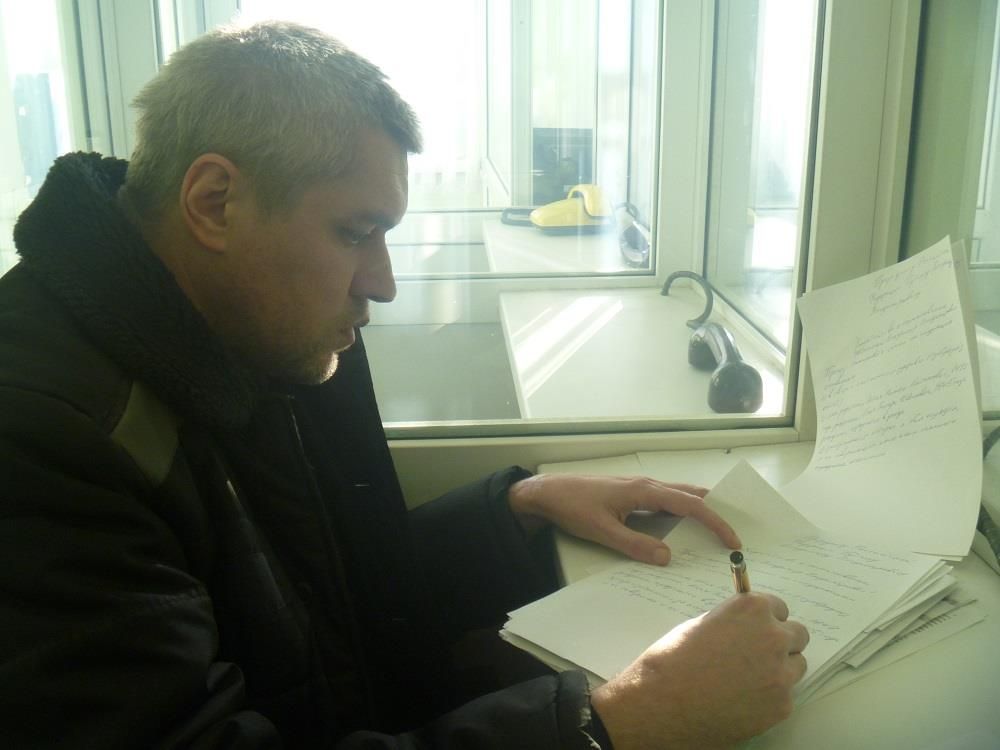 Facebook: Tatiana Shchur
One of Russia's high profile political prisoners Stanislav Klykh's mental condition raises serious concerns, a member of the Urals Human Rights Group Tatiana Schchur reported after the convict's lawyer, Roman Kachanov was granted access to his client and met with him.
Roman Kachanov is the first man who over the past several years got to shake Stanislav's hand. Before him, all visitors, including the mother, communicated through glass," Shchur said, adding that the lawyer spoke with Klykh for three hours.
Russian court sentenced Stanislav Klykh to 20 years in a penal colony for the alleged participation in the Chechen war.
"Stanislav feels fairly well although he complains over the pain in his legs (suspecting he has 'tubercle bones.'). Since he says prison food is disgusting, he tries to eat whatever he can afford in the prison store for the money allowed by law, and since the choice is meager in this store, he mostly gets biscuits and sweets, which is why he recently gained weight," the human rights activist said.
 The lawyer reported that Klykh had made an impression of a calm and friendly person who very much misses human contact, being constantly held in solitary confinement.
Read alsoUkrainian prisoner Klykh in Russia hopes for swap in near future – lawyer"He does not want to share his cell with anyone, fearing aggression on the part of cellmates," Shchur wrote.
After talking to Klykh, the lawyer suggests that the man is suffering from some kind of a mental disorder.
"Despite the quiet and distinct speech, its content raised serious concern with the lawyer, especially after a conversation with Stanislav's mother. Stanislav's stories reminiscing on the events of his 'peaceful life' are very similar to obsessive delirium," the human rights activist said.
Roman Kachanov photographed in detail the numerous deep skin injuries that had healed by now on various parts of Klykh's body.
Read alsoUkrainian delegation not to allow PACE forgetting of invaders' crimes in Crimea, Donbas – Gerashchenko"It's for the experts to decide what those are… All of this is very similar to the traces of torture, which this probably is," wrote Shchur.