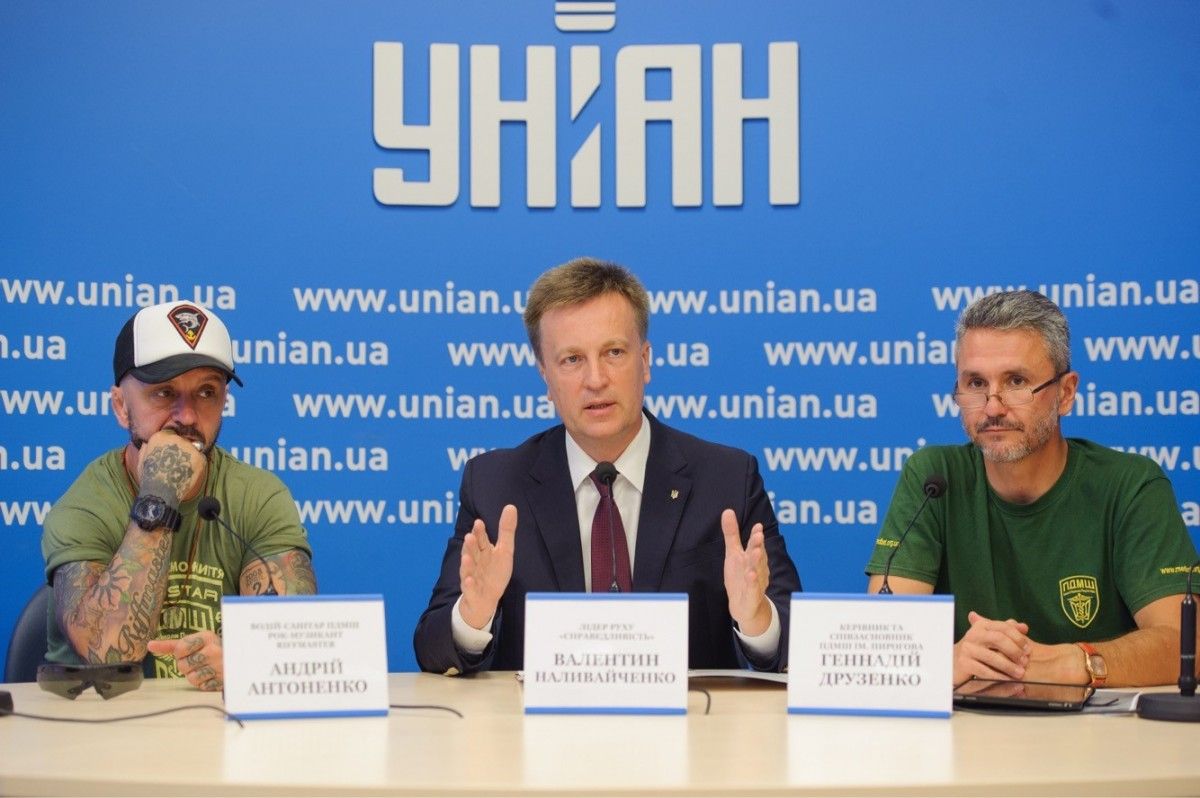 Nalyvaichenko (center) / Photo from UNIAN
Former chief of the SBU Security Service of Ukraine Valentyn Nalyvaichenko says high-ranking officials of the Russian Federal Security Service (FSB) visited Ukraine three times amid the Maidan protests staged in Kyiv between the end of 2013 and the beginning of 2014.
Read alsoWitness in Yanukovych case: Pashynskiy, Poltorak behind decisive step to withdraw troops from CrimeaThose Russian experts in countering terrorism came at the invitation of the then president Viktor Yanukovych and were even given access to the government communications system, Nalyvaichenko, who was again appointed to head Ukraine's SBU after Yanukovych had fled the country for Russia, said at hearings on the Yanukovych case in Kyiv on January 7.
This, according to Nalyvaichenko, means that the surrender of the entire country, and not just Crimea, to Russia was being actively prepared then.
He said the last time he had communicated with the former president was during the presidential inauguration in 2010, when he provided his security as SBU chief of President Viktor Yushchenko, who was defeated by Yanukovych in the presidential elections. Then Nalyvaichenko filed a resignation letter and had no contacts with Yanukovych.
Recalling details of Yanukovych's removal from the post of president after he had escaped, Nalyvaichenko noted that he was a Member of Parliament then, and voted for a relevant resolution on February 22, 2014.
The former SBU chief also said he did not know anything about threats to Yanukovych's life that could have forced him to leave Ukraine.
Nalyvaichenko noted that he had learnt about the circumstances of the former president's getaway from two employees of the Administration of State Guard (DSG) of Ukraine after they returned from Crimea on February 24, 2014, as they were accompanying the fugitive president heading for the peninsula.
Nalyvaichenko added he had visited Crimea as an MP together with Arsen Avakov, who is currently Interior Minister, in the early hours of February 23, he saw Russian military equipment there and witnessed the annexation of the peninsula by Russia's special services.
Later, on February 24, he was appointed acting head of the SBU.
According to Nalyvaichenko, the ex-president did not try to contact him after that.
Nalyvaichenko also noted that since February 24, 2014, the SBU in several cities of Ukraine had revealed armed groups of saboteurs, trained in advance by Russia with the assistance of ex-officers of the SBU, headed by Oleksandr Yakymenko.
"Russia's aggression started on February 20 from Crimea, but subversive groups were being trained in other regions," he said.
In turn, Yanukovych's lawyers said Nalyvaichenko had visited Crimea not only as a lawmaker, but also as an authorized representative of the Verkhovna Rada, Ukraine's parliament, virtually as the SBU's head. They deemed Nalyvaichenko's testimony as lies, claiming he wanted not to be held liable for inaction during the annexation of Crimea by Russia.
Nalyvaichenko, in turn, said preparations for the annexation started back in 2010, when Yanukovych officially reinstated the FSB officers on the peninsula, after Nalyvaichenko as the SBU chairman had once expelled them from there. Moreover, he said, Ukraine's power structures, including the SBU, had heavily been infiltrated by FSB agents during Yanukovych's presidency.
"Yanukovych surrendered Ukraine and Crimea to Russia consciously, with no pressure from the Russian Federation," he underscored.
As UNIAN reported earlier, Yanukovych is charged with treason, complicity with the Russian authorities, deliberate actions committed to redraw the state border of Ukraine in violation of the Ukrainian Constitution. He is also accused of waging an aggressive war. These are the crimes stipulated in Part 1 of Article 111, Part 5 of Article 27, Part 3 of Article 110, and Part 2 of Article 437 of the Criminal Code of Ukraine.
The judicial panel of Kyiv's Obolon district court on June 29, 2017, satisfied prosecutors' request for special judicial proceedings in the Yanukovych case.
UNIAN memo. Nalyvaichenko, 51, headed the SBU twice: from December 2006 to March 2010 under President Yushchenko and from February 24, 2014, to June 18, 2015, under acting President Oleksandr Turchynov, who is now Secretary of the National Security and Defense Council, and the incumbent President Petro Poroshenko. Yakymenko was his predecessor appointed by Yanukovych.