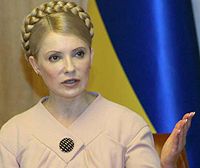 Leader of "Batkivshchyna", Prime Minister of Ukraine Yulia Tymoshenko  promises not to dismiss the Verkhovna Rada of Ukraine after her victory at the presidential election.
According to an UNIAN correspondent, she said this during the solemn convention on the occasion of the 10th anniversary of all-Ukrainian union "Batkivshchyna".
According to her opinion. There are two variants after presidential election – to dismiss or to unite political forces in the parliament.