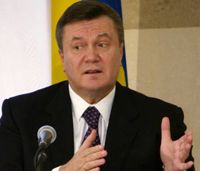 The main result of the present political six months became that the power could not protect people from the crisis.
It is underlined in the statement of the Party of Regions leader Victor Yanukovych. The statement was passed to UNIAN.
V. Yanukovych says: "Today's power is a bankrupt. The coalition is tumbling down in the parliament. The ministers go away from the parliament, corruption scandals take place regularly. The power got hooked on external loans, at the costs of which Ukraine lives".
He noted that the task of his political force is "to prevent bankruptcy of the power turning to bankruptcy of the state".
V. Yanukovych noted about renewal of the normal mutually beneficial relations with Russia and return of the strategic partnership with Russia.