Yushchenko runs for presidential post again in order to win
President of Ukraine...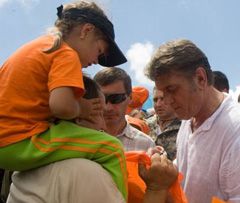 President of Ukraine Victor Yushchenko says that he goes for the presidential election in January 2010 and he will win.
According to the press service of the President, he said this at the rally before climbing on the highest mountain of Ukraine – Goverla Mountain, dedicated to the anniversary of declaring of Declaration on State Sovereignty of Ukraine.
"I want to say officially that I go to election of President of Ukraine in January 2010. And what is the most important - we will win as we won in 2002 and 2004. Because we are together, there are a lot of us and we are invincible. Glory to each of  you! Glory to our  dear Ukraine!" said V. Yushchenko.
If you see a spelling error on our site, select it and press Ctrl+Enter