Yanukovych: one-two days – and it is possible to come to agreement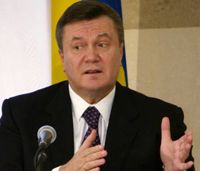 Party of Regions leader Victor Yanukovych says that the parliamentary faction headed by him is ready to initiate extraordinary session of the Verkhovna Rada for introducing amendments into the state budget in the part of increasing the living wage and minimal salary at the next week.
V. Yanukovych said this in the interview to Inter television channel.
"According to my opinion, if 419 lawmakers vote for adoption of this decision (on sending of the draft law on increasing of the living wage and minimal salary for the second reading – UNIAN), it indicates that, practically, the parliament consolidated now", he said.
According to his opinion, " one-two days – and propositions of the relevant working group concerning this issues will be elaborated".
If you see a spelling error on our site, select it and press Ctrl+Enter