Tymoshenko carried over payments of "Yulia's thousands" for after crisis time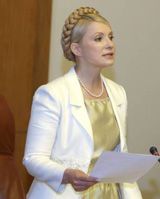 The payments on contributions in the Sberbank of the former USSR will be renewed in Ukraine after relaxation of the crisis.
According to an UNIAN correspondent, Prime Minister  of Ukraine Yulia Tymoshenko said this during the hot line with agrarians today.
"When the crisis will be in recession we will return to payment of UAH thousand", said the Prime Minister.
As we reported earlier, Yu. Tymoshenko said recently that economic situation in Ukraine becomes stable step by step.
If you see a spelling error on our site, select it and press Ctrl+Enter