How expert estimate ad about "her"
Political PR specialists...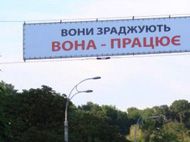 Political PR specialists differently estimate possible influence on electoral sympathy of the new political ad: "They speak, she – works".
These are results of the expert poll carried put by Management Problems Kyiv Institute of Gorshenin because of appearance of the posters with slogans: "They speak, she works", "They block, she works", "They betray, she works", "They destroy – she works" and others. These results were passed to UNIAN.
Director of Gorshenin's Institute Kost Bondarenko believes that it is an obvious fact that the ad is about  Yulia Tymoshenko, and authors of the ad wanted to show that it is she who is the  most constructive politician.
In order to estimate the efficiency of the political ad, Kost Bondarenko proposes to wait some time and that to look at the sociological data, how the rating of Yulia Tymoshenko will change.
If you see a spelling error on our site, select it and press Ctrl+Enter