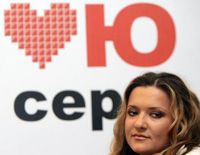 The most famous singers of Ukraine united in order to support actions of Prime Minister of Ukraine Yulia Tymoshenko . They will start their all-Ukrainian tour under the name "With Ukraine in Heart" on September 12.
According to an UNIAN correspondent, representative of initiator of the tour – All-Ukrainian Charitable Tavricheskyi Fund – Sergiy Kovalchuk said this at the news conference in the capital today.
According to his information, the musical tour will start from capital Maydan Nezhalezhnosti. The most famous Ukrainian musicians will take part in it: Ruslana, Oleksandr Ponomarev, Ani Lorak, Potap and Nastya Kamenskix, Tina Karol, Natalia Mogilevska, Iryna Bilyk, TIK band, TNMK band, "Dryga Rika", Mad Heads XL.
All these artists said at the news conference that they united in order to carry out big concerts in different cities of Ukraine, to meet with youth in order to unite society.
Particularly, O. Ponomarev noted that public support of actions of Prime Minister of Ukraine Yulia Tymoshenko became uniting motive for famous artists.