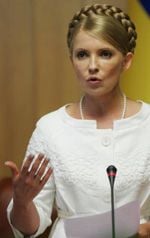 Yulia Tymoshenko will not dispute results of the election of the President of Ukraine, which will take place in January, 2010.
She promised this delivering a speech on the air of Poltava television. "If people elect their President and it will not be Yulia Tymoshenko, I will absolutely honestly and calmly accept the choice of people", she said.
Yu. Tymoshenko confirmed that she believes that leader of the Party of Regions Victor Yanukovych is her main rival at the presidential election.