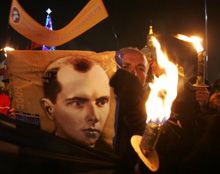 On January 1, 2010 Kyiv city organization of all-Ukrainian union "Svoboda" will carry out an action "Stepan Bandera is our Hero" dedicated to birthday of leader of the Organization of Ukrainian Nationalists (revolutionary) Stepan Bandera and all fighters of OUN-UIA (Ukrainian Insurgent Army).
The press service of Svoboda all-Ukrainian union disclosed to UNIAN that the action will start at 18. 00 pm near the monument to Taras Shevchenko, after that a formed column will walk along Shevchenko's boulevard and Khreshchatyk to Maydan Nezhalezhnosti. 
It is planned that the rally at Maydan Nezhalezhnosti will take place at 19.00 pm.