President of Ukraine Victor Yanukovych paid a private visit to Moscow in order to take part in christening of the grandson of his school friend and to take part in a wreath-laying ceremony to grave of space pilot Georgiy Beregovoy.
Victor Yanukovych also met with Patriarch of Moscow and All Russia Kirill, and President of the Russian Federation Dmitriy Medvedev.
During the official visit to Moscow V. Yanukovych and D. Medvedev found some minutes to speak about common interests in automobile sport and the Russian President promised that he will show to his Ukrainian counterpart his "Pobeda" ("Victory"), the press service of the Ukraine President reports.
After visiting of a chapel and drive. the bilateral meeting  took place, during which the heads of the states discussed perspectives of the Ukrainian – Russian cooperation.
Victor Yanukovych at christening of the grandson of his school friend
Victor Yanukovych near the grave of space pilot Georgiy Beregovoy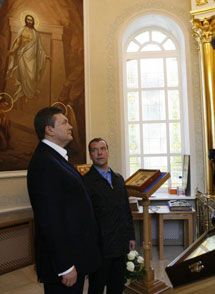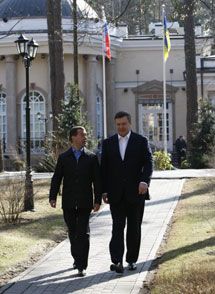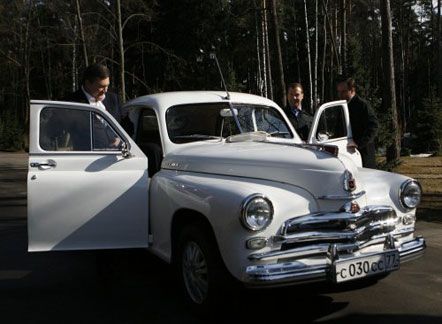 President of Ukraine and President of Russian getting into "Pobeda" car
Photos by Andriy Mosienko/POOL/UNIAN