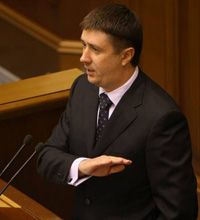 "For Ukraine!" lawmaker group sends books about the most famous dictators of the planet to President of Ukraine Victor Yanukovych by post.
According to an UNIAN correspondent, lawmakers from "For Ukraine!" lawmaker group said this to journalists near the Verkhovna Rada of Ukraine.
Particularly, according to their words, they did not succeed in passing the books directly to the Administration of President, because they were not received there. That is why they sent the books to the head of the state by post.
In two small packages there are books with biographies of Ceausescu, Mussolini and encyclopedia "100 Great Dictators of the Planet".