Participants of the protest action against the visit of Primate of Russian Orthodox Church, Patriarch of Moscow and All Russia Kirill unrolled the State Flag of Ukraine of 35x45m at the European Square in Kyiv.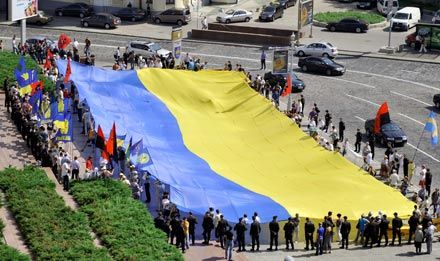 Photo by Mykola Lazarenko
According to an UNIAN correspondent, nearly 100 activists of Svoboda All-Ukrainian Union, Congress of Ukrainian Nationalists, UNA-UNSO and Ukrainian People's Party took part in the action.
Representatives of the law-enforcement bodies surrounded the 45m State Flag of Ukraine in order to keep order.